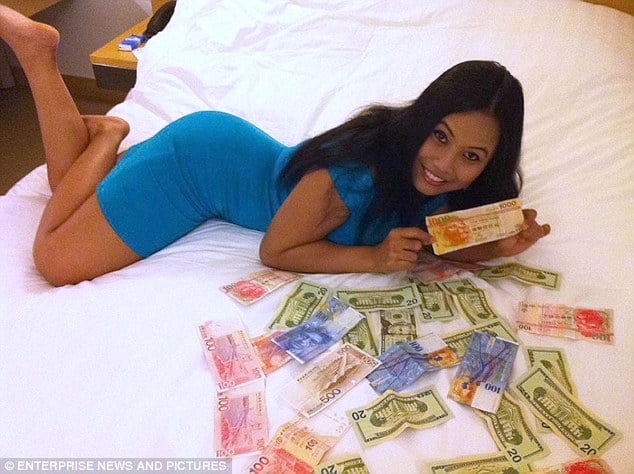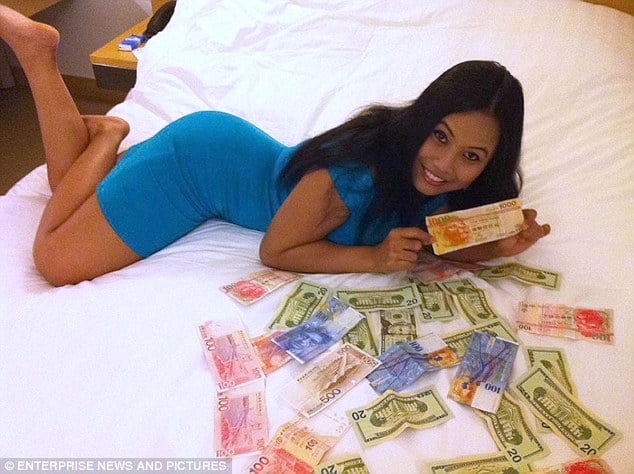 Rurik Jutting, Cambridge educated Merrill Lynch prostitute killer it has been reported hosted a wild sex themed drug party before slashing his victims.
It wouldn't be days after the partying that one of the hookers the Hong Kong based banker had hired, mother-of-two, Indonesian woman, Sumarti Ningsih, 25 would be found mutilated inside a suitcase at the banker's apartment.
Also present at the party was Rurik Jutting's other victim, Jesse Lorena whom the banker had picked up along with other call girls at local nightclubs.
According to one source via the UK's dailymail, the 29 year old banker would hire up to eleven girls to party with at a time during drug fueled orgies which would typically last two to three days.
Pursuant to authorities investigations, a myriad of sex toys would be discovered along with cocaine at the banker's apartment.
Local media outlet, Ming Pao would report that Jutting had been talking 'delirious nonsense' to the police when they arrived to his apartment after calling them over at 3 am Saturday morning.
Told the source: 'He would pay each girl around HK$11,000 (£900) for the whole night, so in total it would cost him about HK$121,000 (£10,000) ($16 000 USD) per party.
'There's a pool at the roof of J Residence and the building has a sauna, steam bath and a function room where he would bring some girls sometimes, but not for parties.' 
Adding intrigue to the banker's double life was the fact that he was also said to be known to argue and slap his cache of girls, along with on a number of occasions renegeing on promises to pay despite boasting of his enormous wealth.
Reiterated the source, AJ: 'He claimed he is rich, but he's a mean guy,'
'They asked for money up front first, but he didn't give, saying: "Don't worry, I give you later"
'He doesn't want to pay even after sex, even taxi money.' 
The latest assertions come after the banker appeared in court this morning following this weekend's gruesome discoveries before being remanded to custody until his next hearing on November 10.
The court heard Jutting has since been interviewed "six or seven times" and is expected to be taken back to his flat this week for detectives to stage a reconstruction – as is customary in Hong Kong crime cases.
In trying to understand what may have preempted the banker who heralds from a prestigious background, a former acquaintance told how the banker was 'devastated' after his fiancée – a fellow trader – cheated on him with another man.  
The pair had become engaged, but the relationship ended bitterly around two years ago after she reportedly had an affair after moving to New York from London.
The source, who declined to be named, said: 'She wanted to marry him pretty fervently and he proposed, but she ended up cheating on him.' 
The fiancee was forced to fly back to London because Jutting was so heartbroken, the source told the Daily Telegraph.
'It was him ultimately him who broke it off – I think he took her infidelity quite badly.'
'They tried to reconcile. But I think maybe a month or so into it he was not able to come to terms with the fact that she had been unfaithful.' 
Jutting, a former pupil at the £34,000-a-year Winchester College, was often 'pre-occupied with power and money' and liked going out and buying tables at clubs, the friend added.
It also emerged that Jutting branded himself an 'insane psychopath' in an 'out-of-office' e-mail from his Bank of America Merrill Lynch account days before the bodies were found at his flat.
Read the e-mail response: 'I am out of the office. Indefinitely. For urgent enquiries, or indeed any enquiries, please contact someone who is not an insane psychopath. 
'For escalation please contact God, though suspect the devil will have custody [Last line only really worked if I had followed through].'  
In further developments, police were investigating whether there were any more victims after photos of one of the dead women were allegedly among 2,000 pictures and videos on a smartphone used by Jutting.
Jutting, who moved to Hong Kong from London in July last year, quit his high-earning job in the city, where expat bankers lead notoriously hedonistic lifestyles.
He appears to have posted to Facebook last Monday that he was embarking on a 'new journey'.
He wrote: 'Stepping down from the ledge. Burden lifted; new journey begins. Scared and anxious but also excited. 
'The first step is always the hardest.'  
A police source said would tell that Jutting had left Merrill 'within the last few days' but was unsure if his resignation came before the killing of the first of the two women.
The banker's killing spree would come to an end Halloween night when Jutting rang police shortly after 3am.
Officers arrived at his blood-spattered 31st-floor apartment to find a 30-year-old Indonesian prostitute, named locally as Jesse Lorena Ruri, still alive despite gaping knife wounds to her throat and buttocks. She died soon after.
Hours before her murder, the woman had told friends she was going to a Halloween party, adding: 'I'm going to have fun.'
Authorities have since told that they now believe the decomposing bodies of one of the two victims found had been left in a suitcase by the banker's balcony in the sweltering humidity for up to 5 days.