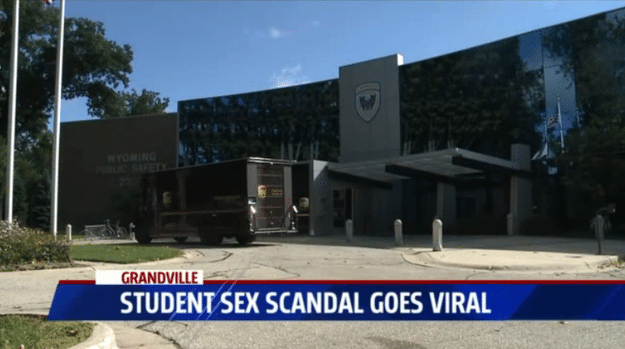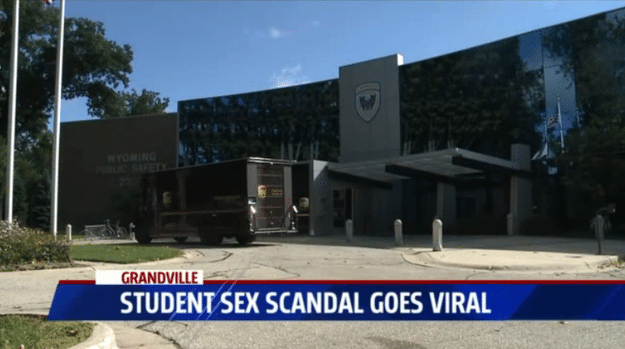 Cops are investigating a Blow job selfie which has since gone viral after a Michigan teen posted a 'sex act' on instagram.
Perhaps what's most compeling about the sex act is the fact that four other students can be seen smiling and laughing as a female teen takes to performing oral services on an equally smiling male teen. Yet it only gets better when next to that image is another image with the same young woman with what appears to be white liquid frothing out of her mouth gesticulating at the camera. The caption behind that image simply reads: 'It's milk guys I promise.'
Milk or not, the post which found its way on subreddit, trashy (naturally) would soon go viral before administrators would wipe comments down. Wipe them down when it became revealed that one (or both) of the teens involved in the Blow Job selfie may also be a minor(s)..
But this being social media, twitter users nevertheless took to reposting the image, even identifying the girl as a female student from Grandville High school in Grandville, Michigan.
Cops are now telling that those who produced the images, share or possesses the photo could also now face criminal charges if it is determined if just one
of the teens involved was a minor.
Reiterated Wyoming Police Captain Kim Koster: 'Nobody should be sharing them.'
But that of course is like whispering in an open canyon in the age of digital social media, where images, ideas and intangibles have become hungrily consumed, irrespective of the legality of said subject matter.
Reiterated Koster: 'Once a photograph is texted to someone or posted, your control over that photo is relinquished and really it's out there for anybody.'
Which judging by the volume of traffic on social media, is an understatement.
As an interesting aside, the female student who took the image and chose to share it on social media has since told she doesn't regret taking the photo, even going so far as to brag about its viral nature and of course all the many followers she has since gained. Naturally.