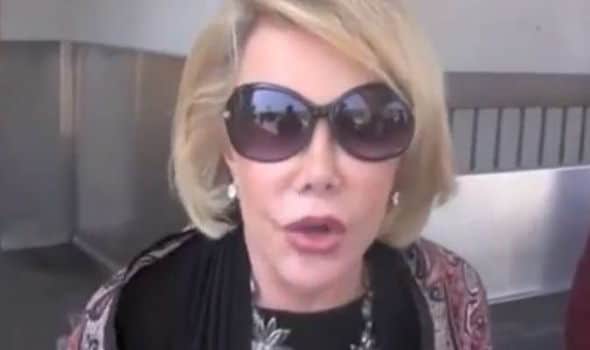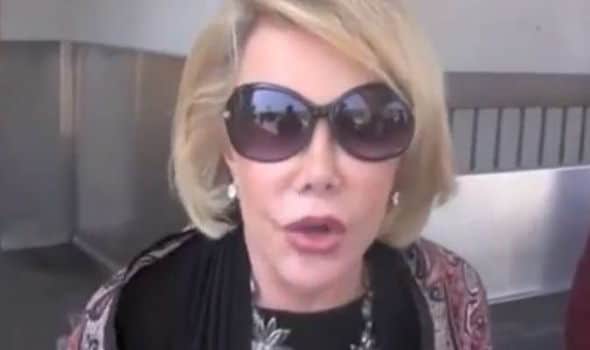 Joan Rivers is dead at age 81. The outspoken comedienne passed away at 1.17pm told her daughter, Melissa.
In a statement, Melissa Rivers told that her mother passed way peacefully surrounded by her family.
Told the statement: 'It is with great sadness that I announce the death of my mother, Joan Rivers,'
'She passed peacefully at 1:17pm surrounded by family and close friends. My son and I would like to thank the doctors, nurses, and staff of Mount Sinai Hospital for the amazing care they provided for my mother.
'Cooper and I have found ourselves humbled by the outpouring of love, support, and prayers we have received from around the world. They have been heard and appreciated."
'My mother's greatest joy in life was to make people laugh. Although that is difficult to do right now, I know her final wish would be that we return to laughing soon.'
Joan Rivers: Palestinian children deserve to die cause they have low IQ's.
The comic's death comes a week after being rushed to Mount Sinai Hospital after going into cardiac arrest during an outpatient procedure on her vocal chords at  Yorkville Endoscopy, which is now under investigation. 
State officials said they are reviewing the case, but have yet to launch an official investigation.
Earlier in the day, TMZ reported that the New York state Department of Health were now looking into Yorkville Endoscopy – the clinic where Joan Rivers had her ill-fate surgery.
At the time Rivers suffered cardiac arrest and stopped breathing during minor throat surgery on her vocal chords.
New York state Department of Health spokesman James O'Hare would this afternoon tell that the department was looking into 'the whole matter.' He would decline to discuss specifics.
At the time of her initial surgery, Rivers was left fighting for her life amid fears she might be left a 'vegetable', but friends have since dismissed these claims and had told that Rivers was improving day by day at Mount Sinai Hospital.
The comedienne's operation came after telling friend Jay Redack, that she needed a touch up as her vocal chords were getting raspy.
The nydailynews would report that Redack would be turned away by security when he attempted to visit her in hospital.
They had enjoyed dinner on Wednesday night after her hour-long stand-up session at the Laurie Beechman Theatre in Times Square.
Told Redack: 'She said her throat was bothering her for a long time,'
 'Her voice was getting more raspy, if that was possible. She said she was just going in for a little procedure in the morning, that was it.'