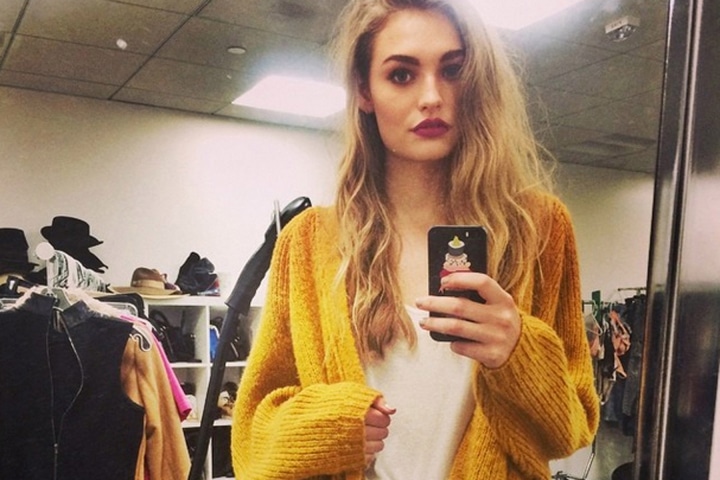 Dutch top model, Roosmarijn de Kok, 19 has found herself in an interesting predicament after being accused of having shoplifted a variety of yummies from a Tribeca Whole Foods outlet.
Purported stolen items include, fish oil and three chocolate bars, items that the NYC based Wilhelmina Model has denied stealing.
Standing in front of a Manhattan district criminal court, the sheepish model who is probably more used to cavorting on a runway or a fashion shoot had to be asked to properly stand as she took to slouching and nervously clutching her designer leather jacket reports the nydailynews.
Told Manhattan Criminal Court Judge Denise Dominguez to Roosmarijn de Kok's defense attorney, Sal Strazzullo, known for handling high-profile fashion and nightlife clients: 'Before we proceed, please tell your client to unfold her arms.'
Indeed…
De Kok's presence in the courtroom came as a result of being charged with petit larceny and criminal possession of stolen property in the fifth-degree for the alleged shoplifting at the 270 Greenwich St. location about 3:20 p.m. on July 18. She was given a desk appearance ticket with Monday as the return date.
At the time a Whole Foods 'store detective' (who knew such things existed?) allegedly saw the model take DHA fish oil and the chocolate bars off the shelf and 'conceal' them in a bag.
What a shame. I normally proceed to eat them in front of said detectives for a lark, but that is another matter of mischief.
The models's attorney in turn argued that the charges should be thrown out because the model hadn't left the store with the items before being apprehended.
Argued the high flying lawyer: 'It doesn't state that she walked out of the store.'
Dominguez told Strazzullo he'd have to re-argue that in a future written motion.
Nevertheless prosecutors offered the supermodel a conditional dismissal, wherein charges would be dropped after six months if she stayed out of trouble (but will she? or will she resort to another attempt at beating store detectives?) before rejected the offer. It's unclear if the same offer will be available next time.
As she left the courthouse, Roosmarijn de Kok's lawyer declined to discuss the case with the model telling she's expecting to still appear at Mercedes Benz Fashion Week (for now anyway), which is beginning Sept. 4.
'I'm doing fashion week soon,' she said, adding that she wore Yves Saint Laurent to the appearance.
Her case was adjourned to Sept. 25 for future arguments.
Isn't it time you tried to pick pocket some nutritious dark chocolate soon too …?
Photos via instagram