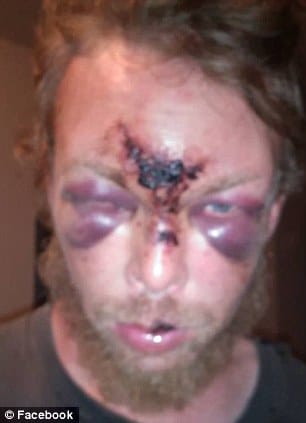 Denton Police, North Texas police department have released a disturbing video (see below) showing a man arrested and body slammed face first to the floor during booking.
The July 19 video told Denton Police Officer Ryan Grelle was the department's effort to apologize and provide transparency of the horrendous incident involving an individual being taken down for public intoxication.
Denton Police would later fire the arresting officer, Jailer Darius Porter after concluding he used excessive force during the booking of Jason Bishop.
Bishop would tell that the suffered broken nose, two black eyes and a cut to the head.
Police say Porter misapplied a technique called a leg sweep that tripped Bishop, whose head struck the concrete floor.
Bishop, 38, who was treated at a hospital, told the Denton Record-Chronicle on Wednesday that his head still hurts but he's otherwise healing.
In the video at the Denton Police Department jail, Bishop is initially seen not following any of the directions given to him by police following his arrest near to the University of North Texas.
He is then lifted off the bench he is sitting on, slammed down onto a desk, hitting his head and then taken into a holding cell.
It is inside the cell that Porter applies a leg sweep that causes Bishop to crash face first down onto the floor.
In the video, which Denton Police released to refute any rumors or accusations that Bishop was beaten, he is seen to lie down for two minutes.
When rolls over, a pool of blood can be seen.
Eventually, Bishop is taken to Denton Regional Medical Center where he was treated for a facial contusion, cut lip, wrist injury and broken nose.
Reiterated Denton Police Officer Ryan Grelle: 'We are absolutely sorry that it happened to him,'
'That is not a normal takedown that we usually do.'
'There's a lot of rumors going around that he was beaten in the jail, he was handcuffed in the jail, that it wasn't a leg sweep that took him down and caused the facial injuries. We wanted to be transparent and let people see that this is what happened,' 
Grelle would say it was up to Bishop to decide if he wanted to pursue any charges against Porter, before adding that police have had more than 20 run-ins with Bishop and that he is notorious inside the department. At present it is not understood why the police department has declined to bring charges against the former officer…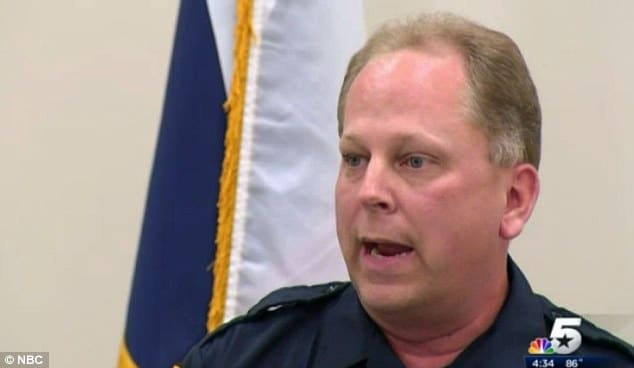 And then there were these comments on the web that made me wonder:
the use of force here is totally uncalled for. Jason may not have been cooperating, but he was in no way physically resisting. he even seem to be very friendly to the staff. The jailer needs to be charged with aggravated assault, and denton PD needs to cut this man a check for the injuries. 
An assault such as this is a crime. With just cause and evidence one is arrested. The fact that this jailer was simply fired and not arrested as well is a travesty of justice. Plus that and official oppression.
I've known Jason for years so this was hard to watch, but It's good to see that Denton County will not put up with their staff mistreating the inmates. 
I have to say, that leg sweep was unnecessary.
Jason couldn't of fought the jailers and officers while handcuffed anyway. He was intoxicated and being cocky. No different than any other person arrested for PI. Nothing he was doing was grounds for such force to be used against him. 
What was the jailer thinking? He had to of known that with his hands cuffed, Jason was going to hit head first from that leg sweep. 
In only a few moments and one overzealous move, he ruined his career.