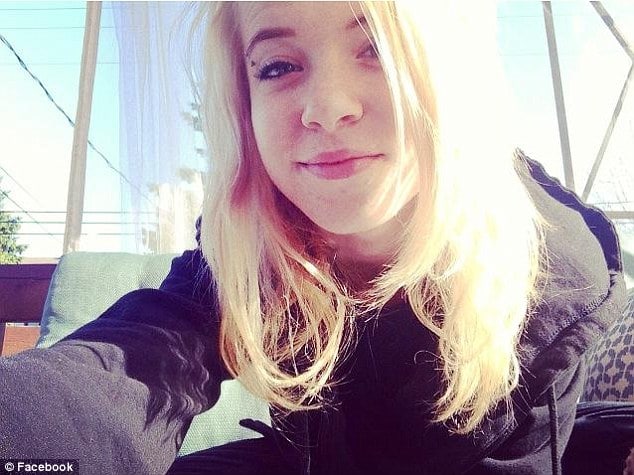 Lindsey Stocker, a Montreal high school student has accused her school of attempting to slut shame her on account of her refusal to change out of a pair of shorts that authorities deemed too short.
Teens sluts sent home from high school for wearing visible bra straps. 
Shit came to pass when, Lindsey Stocker, a grade 11 student at Beaconsfield High School, donned a pair of denim shorts on May 21, one of the first hot days of the season but was soon ordered to change by her school's vice principals.
Instead of complying the girl took to printing a poster that she plastered over the school, questioning why girls' bodies were the focus of the rules instead of boys' behavior.
During third period on that day, two vice principals entered her classroom and told everyone to stand up so their outfits could be inspected.
'And when they came to me after about two rows of looking they stopped and told me my shorts were too short and I had to change,' Stocker told the National Post.
'They continued to tell me would be suspended if I didn't start following the rules. When I told them I didn't understand why I had to change they told me that it doesn't matter – I don't have to understand the rules, I just have to comply by them.'
Feeling singled out and humiliated, Lindsey Stocker instead of opting out of the shorts set about  went and printing up 20 posters and placing them all over school.
So instead of complying with the rules, she went and printed up about 20 posters and stuck them up all over the school.
Read the posters, 'Don't humiliate her because she's wearing shorts. It's hot outside. Instead of shaming girls for their bodies, teach boys that girls are not sexual objects.'
The posters would come to be taken by teachers after about 10 minutes, but they went on to live on in social media.
Since gaining attention, Lindsey Stocker has won the support and admiration of other girls at school.
Told fellow student, Sierra Drolet via CJAD News: 'Most people are agreeing with her, women shouldn't have to cover themselves up completely because we shouldn't be viewed as sexual objects.'
In a show of support, Lauren Paquay, 15, would show up to school the next day wearing shorts She would tell the dress code verification – making girls stand up with their arms by their sides to ensure their outfits are fingertip length – is 'humiliating.'
'People are being judged for the way they dress, they have to change because boys look at them. The boys should be the ones who have to learn to treat women better and look at them in a different light,' she told CBC.
Nevertheless, Susanne Stein Day, the chairperson of the Lester B Pearson School Board has since told that Stocker has been suspended for not following the rules.
Told Day: 'The rules are there to help the children learn and prepare them for their future work places, high school is a job for them, they are there to learn to function in society, so it's important that the rules be followed,' 
'Girls and boys have rules on dress codes; it is not a girl, boy thing, that's not the point.'
Stocker disagrees.
'I was in violation for showing my legs,' she says. 'And that, point blank, is a problem for me.'
Steven Colpitts, director of the school board that covers Stocker's district, told Canada's Global News that calling students out for the dress code is a 'learning situation,' not for administrators, but for kids.
Told Colpitts: 'It needs to be clear that this is always an opportunity for the school to make it a learning situation for the students,'
'To sensitize them about hypersexualization, which is often a topic that is discussed and the students are well aware of,'
Adding: 'She should have known better than wearing those shorts.'
Lindsey Stocker is back in class after serving a one-day suspension.
And then there were these comments on the web that made me wonder:
Training men to treat women like human beings should be the goal of every single person in our society. Expecting men not to be sexually attracted to women in revealing clothing isn't realistic. I would have told her to go home and change into a longer pair of shorts myself if I were teaching the class – it could have been handled better (ie not in front of the class) but I do have to say that if someone is dressed in clothes revealing enough that other students can't pay attention then that person should change clothes.
What misandry to imply that men can't control their desires and she should have changed. I can't believe that you have this little faith in men.
I remember when I was in school and was told do something, I shut the fuck up and did it. And my parents supported the school. Because its school. Throwing a fucking protest like she's at an Occupy rally because one girl doesn't want to follow the rules.
Sorry for sounding ancient but in my school we had to adhere to our uniforms which included skirts that hovered around your knees. Some of us dared to wear them a couple of inches above our knees and thought we were so cool and rebellious. The idea of daisy dukes in school is something I can't even relate to.
The girl dressed so that boys would look at her, she is not part of the solution she is part of the problem. There are dress codes in every position of employment, some are so restrictive you can't even wear sandals. Get used to it , grow up , get a life.
Talk to Miley Cyrus.