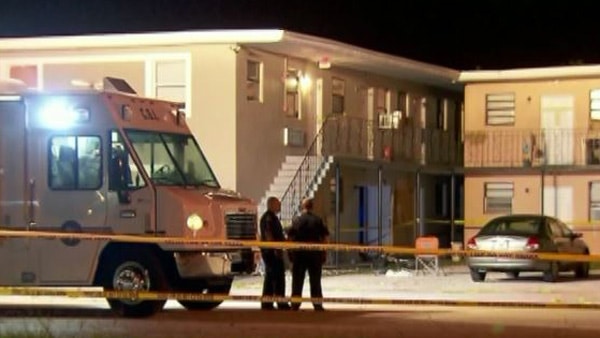 Authorities have told this early morning 2 people are dead and multiple others, at present 10 hospitalized following a shooting in Liberty City, Miami early Tuesday.
2 gunmen responsible for Miami shooting not found: 2 dead, 8 injured
Local reports tell between 7 and 10 people were shot outside an apartment complex at Northwest 12th Avenue and 65th Street around 2 a.m, along an intersection of a residential neighborhood. One man would be pronounced dead at the scene, while another man, identified by family members as 26-year-old Nakiel Jackson, dying upon reaching hospital
At least five other injured individuals were rushed to Jackson Memorial Hospital, where one victim is said to be in critical condition, another stable and three in serious condition, Miami Fire Rescue spokesman Lt. Ignatius Carroll said.
A 17 year old female also sustained multiple gunshot wounds.
Reiterated Lt. Ignatius Carroll: 'We also had one adult male who was in extremely critical condition, was unresponsive, and paramedics performed CPR all the way here to the hospital.'
One woman said her 17-year-old sister was shot at the scene and rushed to the hospital.
Carroll said several paramedics responded to the scene, which he described as 'chaotic.' adding that it was an 'emotional scene outside with family members crowding around.'
Miami police spokeswoman Frederica Burden said the shooting happened in the street and police were trying to determine how many were injured.
'It's very early in our investigation,' she said. 'I'm not sure how it occurred. We're investigating it now. I don't know if they were all outside standing, some in a car, some not in a car. I don't know that yet.'
Dozens of markers indicate bullet casings along the ground and on the walls of the apartment building.
At present cops tell they have no motive in the shooting but detectives are speaking with witnesses.
Anyone with information is asked to call Miami-Dade Crime Stoppers at 305-471-TIPS.