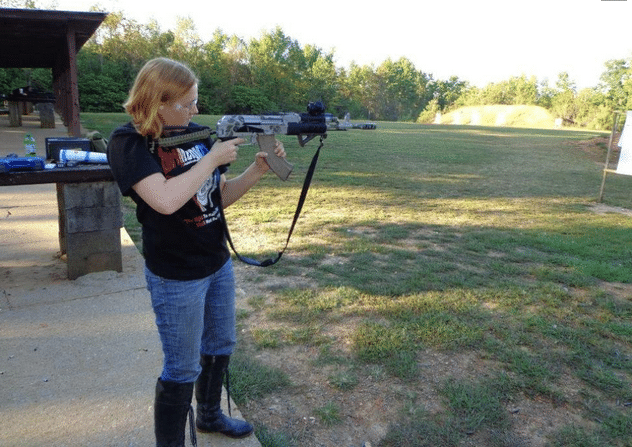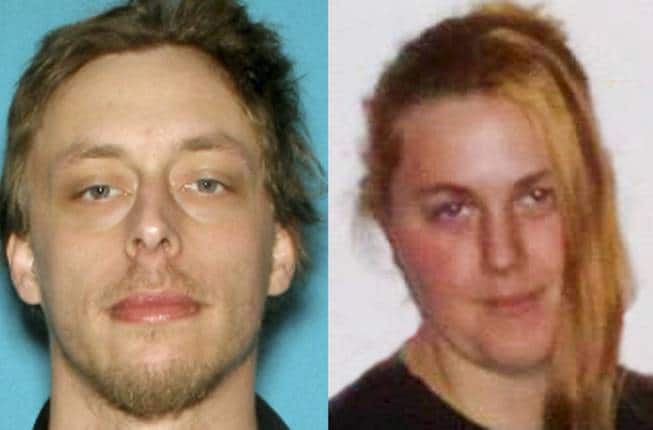 Sheriff Doug Gillespie of the Las Vegas Metropolitan police department in a press release this afternoon has told that Las Vegas Cop killing couple, Jerad and Amanda Miller had left a a swastika-stamped manifesto on one of the slain officer's body and had warned neighbors of their planned attack days before.
Offered Gillespie: 'What precipitated this event, we do not know,'
'My officers were simply having lunch when the shooting started.'
Jerad and Amanda Miller insurrectionists hoodwinked by ideology 
Here's a video of Jerad Miller having a mental breakdown and high on drugs 
Why did Jerad and Amanda Miller kill Las Vegas cops? Super patriots… 
Reiterated 22 year old Brandon Moore, a resident of the complex where the Las Vegas killing couple lived: 'They were handing out white-power propaganda and were talking about doing the next Columbine.'
Adding that the couple had also warned that they planned to commit a mass shooting.
Asked why residents didn't notify authorities, residents told that the couple were in the throes of meth addiction and that no one took them seriously and that they just talking 'crazy' talk.
Sara Andrea, a resident of the complex, said the Millers were known to walk around town dressed as the Batman comic book characters The Joker and Harley Quinn. A photo on Amanda Miller's Facebook page shows the two in costume.
'No one associated (with them), but everyone knew these people,' Andrea said.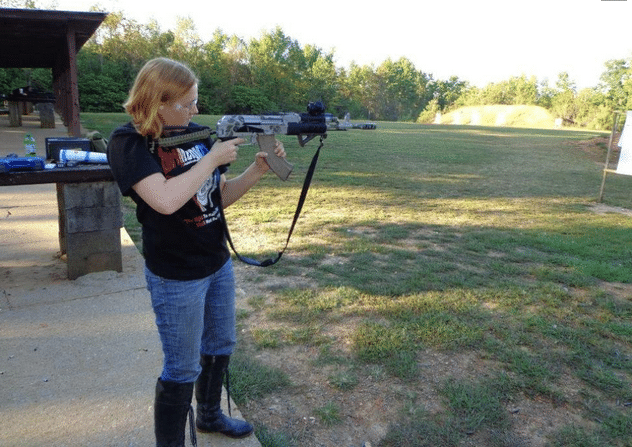 Residents would also offer that the couple had a reputation for spouting racist, anti-government views, bragging about their gun collection and boasting that they'd spent time at Cliven Bundy's ranch during a recent standoff there between armed militia members and federal government agents.
Other neighbors would re affirm how the 31-year-old Jerad Miller had openly spoken of his plans to carry out a "Columbine" attack against police before police say he and his 22-year-old wife Amanda armed themselves with 'hundreds of rounds of ammunition.'
At the time of the Las Vegas killer couple's deaths, authorities would come to find them loaded with hundreds of unused ammunition.
The Las Vegas Review-Journal reports that not only did the two plan to kill the police officers they murdered but that they had bigger plans, including an attack on an unidentified court building. The full scope of their ambition is still unknown.
Reiterated neighbor Brendan Moore: 'They were handing out white-power propaganda and were talking about doing the next Columbine.'
In addition to openly sharing plans to kill, Jerad Miller allegedly boasted on facebook of his gun collection and having recently attended the armed standoff between cattle rancher Cliven Bundy and the Bureau of Land Management which put militia members and federal agents precipitously head-to-head.
The couple recently moved to the area from Indiana, but neighbors said they were too spooked to get to know them.
Asst. Sheriff Kevin McMahill said they are looking into the Miller's connection to that standoff and whether Jerad Miller 'told a neighbor that they were going to go out and kill police officers.'
The suspects had some kind of ideology of 'anti-police and anti-government,' said McMahill at an afternoon press conference.
'We don't necessarily believe that they were White Supremacists,' he said. Instead, 'they believed that law enforcement is the oppressors' — like Nazis.
Adding: 'We believe that they equate government and law enforcement with fascism and Nazis. In other words they believe law enforcement is the oppressor.'
Neighbors would tell how Jerad Miller was often spotted outside the couple's Bruce Street apartment wearing camouflage when he wasn't dressed as Peter Pan to go to work as a street performer and typically ranted about conspiracy theories.
He and his wife also dressed as the comic book villians Joker and Harley Quinn, neighbors reiterated.