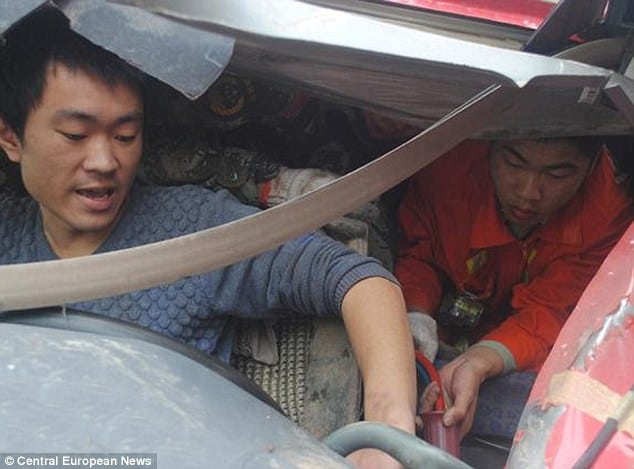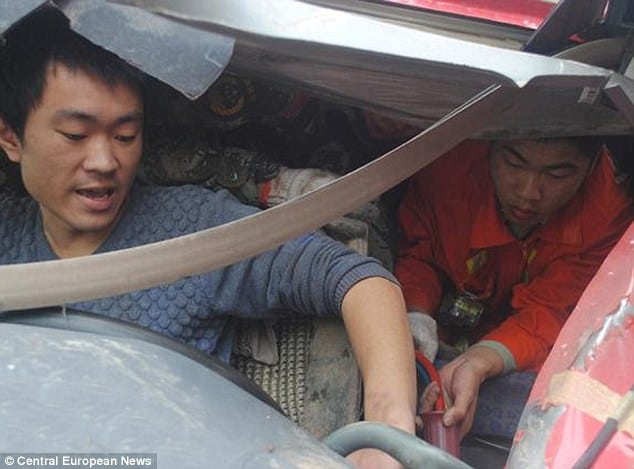 Kong Huang, a seriously injured 35 year old Chinese truck driver refused to recently be assisted by firefighters until he called his wife to confirm that she would still love him if 'he were left one leg,' as firefighters told him they needed to saw his leg off in order to save him.
At the time of the accident, Huang was driving a lorry with sand when he hit another car on a bend in Suining, Sichuan, a province in southwest China.
Told he may have to lose his leg as firefighters attempted to ply him from the ensuing wreckage, the driver got on his cellphone and placed a call to his 29 year old wife, Cheng Huang.
Asked the beleaguered driver: 'Precious one, I have just one question which you must answer truthfully.  I am hurt and may have to lose a limb.  My question is: Will you still love me with one leg?'
When she said yes, Kong Huang ended the call and told rescuers: 'Ok, go ahead, I can live.'
After a rescue operation which lasted several hours Kong Huang was cut free and saved without his limbs being amputated.
Recovering in hospital, Huang reiterated: 'I was doubly blessed this day. I got the love of my wife unconditionally and I have the good fortune to return to her a whole man. I am very lucky.'
Staff spent almost a day clearing the wreckage from the road.