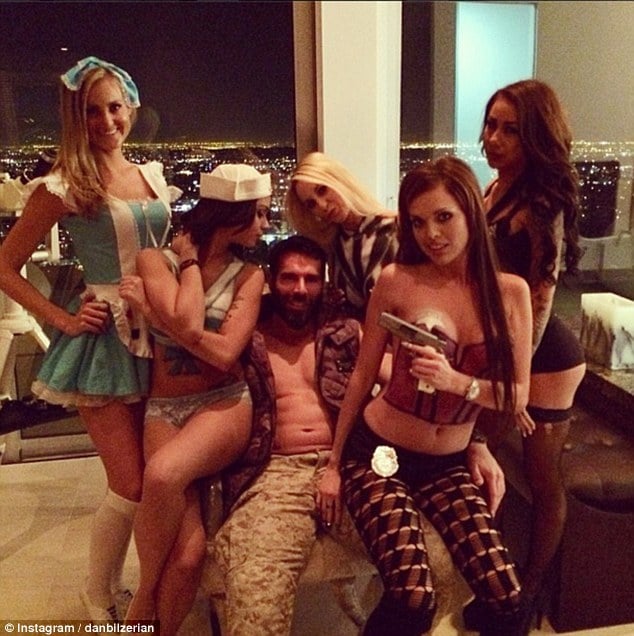 In what could be described the prevailing status quo on social media, flash wielding impresario, Dan Bilzerian has been voted the most interesting man on Instagram .
The glory title came after entertainment site, buzzfeed did a groveling feature on the man, all but suckling up to him in his Playboy pen.
Video: Instagram's Dan Bilzerian throws a porn star onto cement and breaks her foot 
Welcome to the gaudy life of Dan Bilzerian, the Instagram Playboy king.
With over 684,000 followers, the 33-year-old has been gaining popularity over the years as more netizens get exposed to his extravagant Internet persona. In the self described high roller's photos, the high stakes multimillionaire poker player shows his fans and followers a lifestyle that many can only dream about.
In coming to nominate Dan Bilzerian as the most interesting man on instagram, buzzfeed noted the Instagram Playboy King's access to massive amounts of cash, vast property holdings and the copious amounts of images of him living the good shit with half naked women in exotic locations as well as keeping a stable of interesting modes of transport, including multi million yachts, motorbikes, private planes and pink Lamborghini's.
Other than moonlighting as an occasional actor and tweeting about winning US$10.8 million (S$13.8 million) at a poker game, Bilzerian's photos reveal that his days are mostly filled with frolicking with beautiful and scantily-clad women and lounging around on luxurious yachts. A lifestyle that Dan Bilzerian knows all too well leaves most red blooded males gagging for air, never mind the women who covet such men.
Fans are afforded images of Dan Bilzerian's passion for extreme sports/existences with his many photos showing him heading up to the desert for a game of aggressive paintball or getting cuts on his face after a snowboarding trip with his buddies.
Nevertheless even our collective hero found his precarious lifestyle was too much for his own health, as reported by the Daily Dot in Dec 2013. When he was 25 years old, Bilzerian suffered a double heart-attack during a snowboarding trip and in 2011, he had a pulmonary embolism during a three-day non-stop poker game where he flew back and forth from Maui to Las Vegas.
Bilzerian made his fortune as a high-stakes gambler after picking up poker from the brother while he was a student at the University of South Florida.
When the Los Angeles-based player first started the game, he lost all his money and had to sell some weapons from his existing gun collection to recuperate his losses. Needless to say he has never looked back…