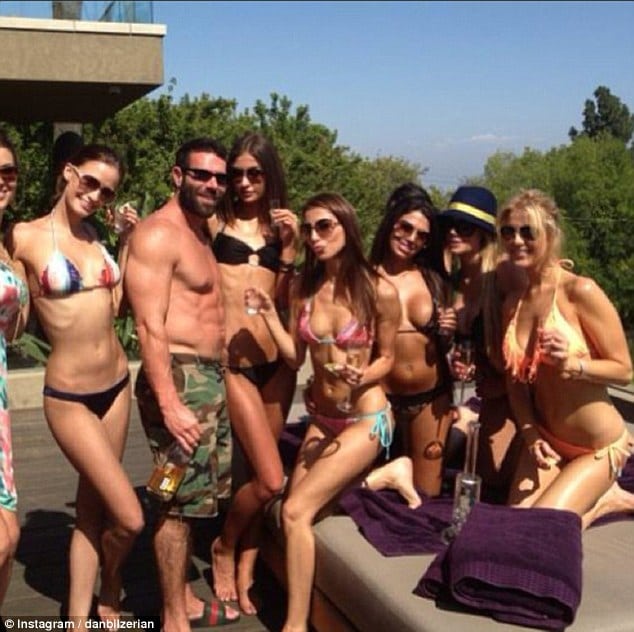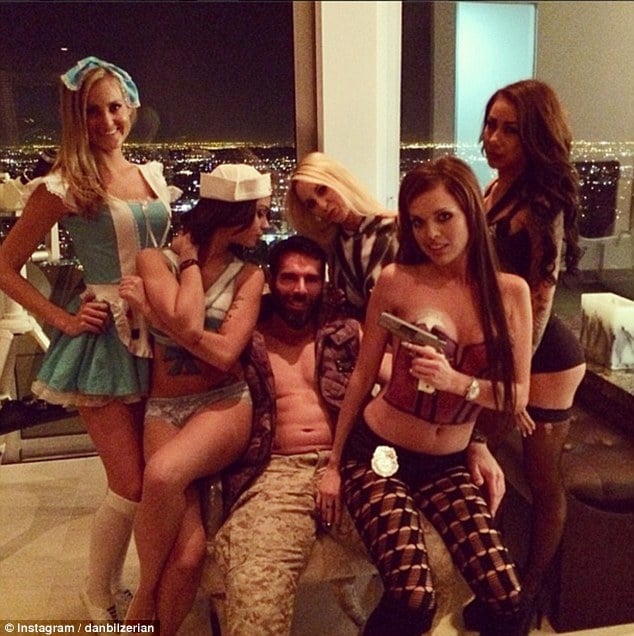 Making social media heatwaves is that of Dan Bilzerian, 32 a self confessed Instagram playboy king whose wicked and gaudy ways have managed to make onlookers wince and then some.
With a background as a multimillionair poker star (that will help nab the slick chickies that Bilzerian covets) the social media man about town has by virtue of documenting his ostentatious lifestyle on instagram gone on to create a kind of legacy for himself.
Video: Instagram's Dan Bilzerian throws a porn star onto cement and breaks her foot 
Dan Bilzerian voted most interesting man on instagram? 
To date, the LA based Bilzerian has described himself as an (hold your breath kids…) 'actor/astronaut/asshole' to his more than 134K Instagram and going strong followers who are taking the time to live the kind of existence they only wish they could but via the exuberance of Dan Bilzerian himself.
Reports tell our collective hero is worth north of $100 million, having made the bulk of his money as a high stakes gambler. That said, Dan's love of the fast life has taken a toll with the Instagram Playboy king having gone on to have a double heart attack and a pulmonary embolism.
What's the expression kids? Play hard, die live hard…
Some of Dan's recent instagram feeds include splashing treasure troves of stacked $100 bills the size of your Manhattan apartment, buxom model type babes with garish breast jobs (no doubt funded by our collective hero) as well as pictures of Dan's expensive shiny toys, including his high bred sports cars with personalized plates that read 'SUCK IT' and 'MR GOAT.'
Other feeds include that of a seal (yes kids, Dan knows  all the party tricks you do but gets to live them unlike you….) and a topless blonde woman in a swimming pool with the caption: 'My buddy actually had a seal brought to the house and put in the pool haha.'
Then there's the image of a cache of semi automatic weapons with the following accompanying title (cause Dan can still remember Sylvester Stallone playing Rambo and wishing he could too): 'My greatest fear is that someone will break in and I won't be able to decide what #gun to shoot them with.'
In a telling interview with the dailydot, our collective hero goes on to reminiscence how high octave his life has been ever since he can recall being shot out of fast speeding trains by his dad for kicks. Metaphorically speaking of course…
We learn that Dan's dad, Paul Bilzerian was a corporate skeez/thief who got to serve four years in the slammer and a $1.5 million fine back in 1989 after a skeezy takeover deal got messy. Oh well…
Dan goes on to tell that he wasn't 'super-cool' in high school (kids this is the part where we are all suppose to fall for Dan and send him custom baked gold nugget almond muffins to make up for the grief)  and how he went to both a military boarding school (cause that's where Dan learns how to be disciplined and keep all them daily feeds coming) and to Utah to live with Mormons for a year.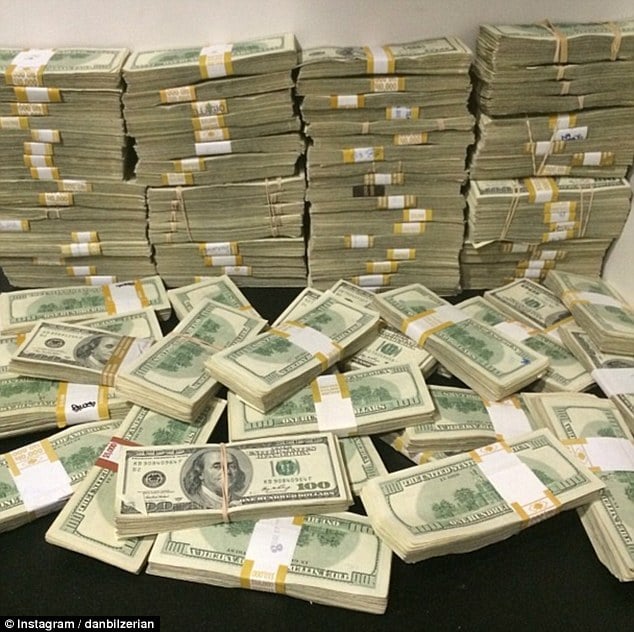 In senior year, we find out Dan ended up in jail for having a machine gun in the trunk of his car. Nevertheless, Dan being the man that he is, still managed to get his GED.
From there our collective hero joined the military and made it 99 per cent through Navy SEAL training, he said. But two days before graduation he was thrown out for calling an officer a 'p****.'
Which is another way of really saying Dan made it 00 per cent through Navy SEAL training.
Tells Dan of that experience: 'When he did my peer eval, (the officer) said I was only out for myself,'
Nevertheless redemption finally hit Dan one day when he saw his broke ass flagging in the wind and promised himself he'd finally this time make it big and stuff. And lo and behold….
Reflects Dan:  'I respected the money. You have to go broke to respect the money.'
To his credit, Dan Bilzerian  has gone on to win multiple poker tournaments, his most successful being the 2009 World Series of Poker. He is also co-founder of online poker room, Victory Poker.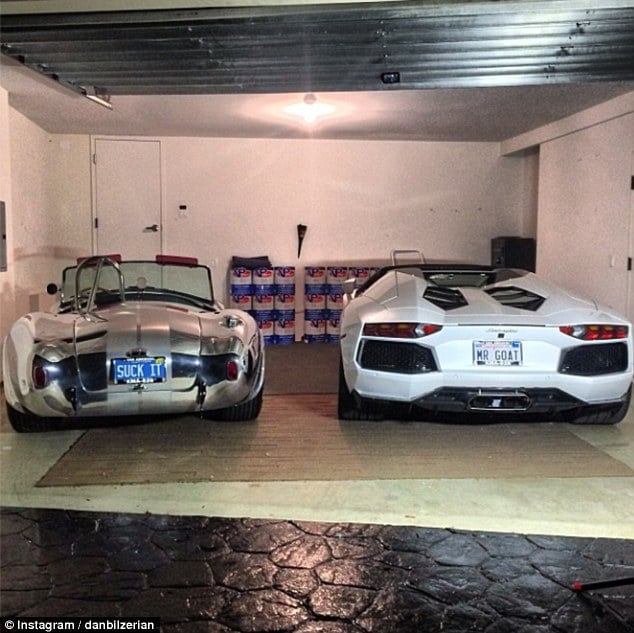 Bilzerian goes on to tell that his motto involves betting on everything in life as his essential condition but he hasn't always won. Case in point, Dan's health which has had to take a backseat given his high-flying lifestyle and the perils of living life at 290 mph every nano second.
When he was 25, we learn via Bilzerian's pr representative, Steve Honig, that Bilzerian went on a 'four-day, very active snowboarding trip – traveling, not sleeping, hanging with friends, doing all kinds of ...' then suddenly trailing off to tell how Dan went on to experience a double heart attack. Something no doubt Rambo never got to experience in front of the camera.
In August 2011, we learn that  Bilzerian flew between Maui and Las Vegas twice in a three-day period to play around-the-clock poker and his heart gave out again. It turned out to be a pulmonary embolism not a heart attack, however.
That though is all in the past, as Honig goes on to tell Dan Bilzerian is in perfect health while seemingly continuing to make the mega-bucks and enjoy spending them. Though Honig goes on to tell the tournaments are harder to win these days, because amateur players put in a lot more hours and are perform better than they used to.
Nevertheless Dan Bilzerian wants to tidy up his bad boy image (but do you kids?) , and is attempting to rebrand himself as 'the gentleman of poker.'
Which is just Dan's way of saying the machine guns will be stored out in the back for the time being along with the seal sleeping in the guest bath tub.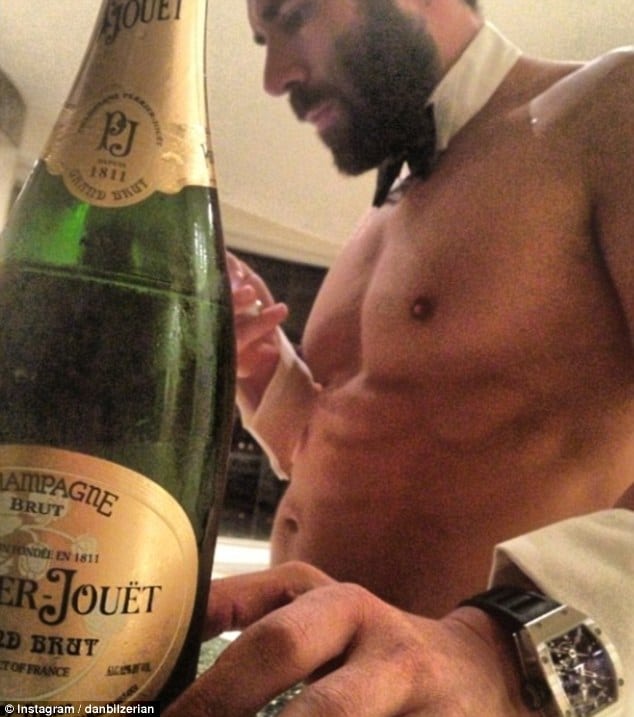 To date, Honig tells Dan's efforts have involved giving away $100,000 of the money he's won (see this is why we should all hire publicists kids)  in what he's calling the Robin Hood Project. So far he's helped Typhoon Haiyan victims, a couple who adopted four sick, underprivileged kids and a third woman who lost all her limbs.
Yes bless your soul Dan. Rambo is weeping the tears he never really got round to.
That said, despite the good deeds, the good shit continues as Dan continues to deliver us with daily Instagram feeds of his over-the-top existence that would leave most of us rendered unconscious and of course understanding Dan Bilzerian is the real anointed preferred hawt bixch of social media that he always knew one day he'd grow up to be..