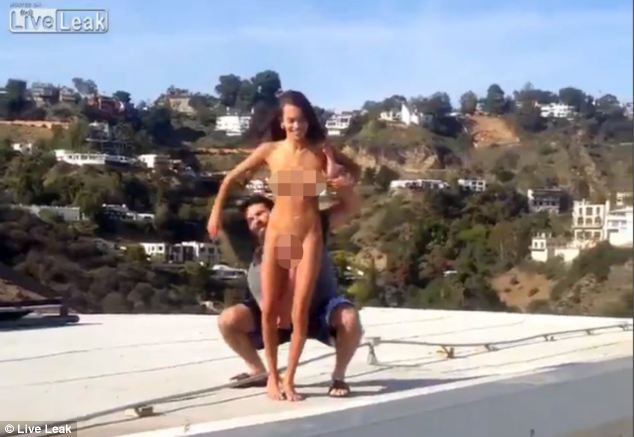 The salacious misadventures of Instagram's Dan Bilzerian took a new turn earlier this week after the 'poker playboy' threw a naked porn star off his roof, leaving her with a broken foot.
Dan Bilzerian voted most interesting man on instagram?
Welcome to the gaudy life of Dan Bilzerian, the Instagram Playboy king.
Dan Bilzerian who has made a hobby of 'documenting' nubile beauties prancing about his dollar signs was in the midst of afternoon cocktails festivities when he picked up the porn star over his shoulder and threw her from his roof into the pool below. Except he missed.
Told  19 year old Janice Griffith, a sometimes porn star/model  on twitter: 'I broke my foot today,'
Which is backhand for 'Dan broke my foot'
Adding last night: 'I was looking forward to shooting for @SexAndSub SO bad today, stupid broken foot.' 
Which is backhand for 'Dan is a stupid  piece of shit who thinks he can get away with shit.'
Naturally Dan Bilzerian refused to take the blame and retweeted the following message: 'Dan Bilzerian was almost murdered by a naked female that tried to pull him off a rooftop hahaha good thing he's part hulk.'
Which is backhand speak for 'I'm a misogynist who does as he pleases with the naked booty that drops by my dollar pad.'
To date Dan Bilzerian, said to be worth $100 million as a result of winning a multitude of online poker tournaments has become an iconic figure in the realm of social media where he gets to show off his gaudy lifestyle, replete with fast cars, aqua blue pools, pink sports cars and gold embossed machine guns.
Told the instagram king in one interview: 'I'm like a big kid. But it's not like a called myself the Instagram King. I put up what people want to see and that just happened.'
Interestingly Dan Bilzerian has talked about his 'risky lifestyle' and how that has led to him enduring some serious repercussions, including a heart attack and a pulmonary embolism.
In the past he has made note of making plans for leading a different existence.
No charges are pending. Hopefully Dan Bilzerian came up with an equitable 'compensation package' for lost opportunities…