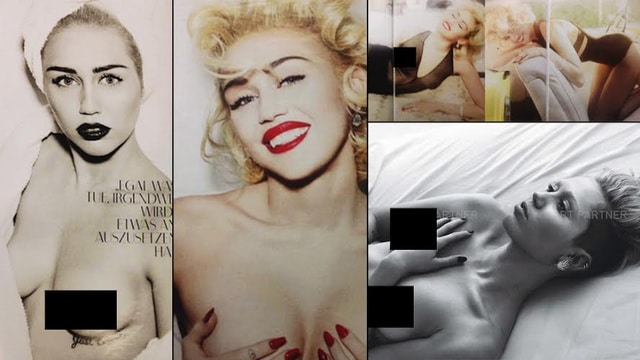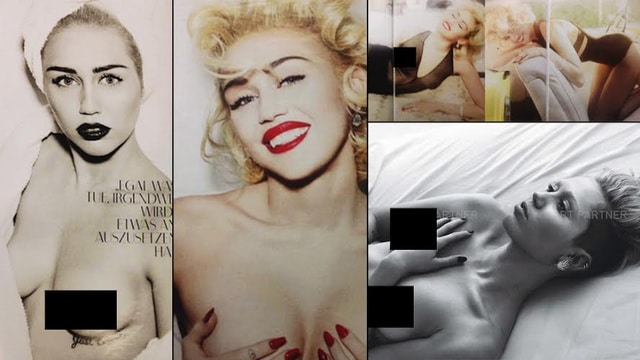 It was finally happen and once supposed pop ingenue Miley Cyrus is in heaven. Yes that's right kids, I'm talking about the topless Miley Cyrus photos for your discrete viewing pleasure.
The photos are They're outtakes from her recent photo shoots with Vogue German and W. Click through for the full pictures. But how they necessarily made the web is a mystery, unless of course Miley leaked that shit? Which wouldn't surprise us or you given the other yummies of her floating on the web.
Told huffpo this morning of the Marilyn Monroe inspired shoot with Vogue Germany as shot by famed Mario Testino:
On Thursday (Feb. 6), photos from the 21-year-old pop star's photo shoot with famed photographer Mario Testino hit the Internet, and they did not disappoint. The artistic shots feature Cyrus lounging in a racy sheer black dress while the need for any imagination has been tossed out the window as she also poses with her bathrobe completely open.
The uncensored outtake photos are below.
And for good measure our collective hero  singer also posted an outtake from her W magazine photo shoot, in which she's similarly topless and in bed with two men.
And here's a slightly more SFW outtake from the W shoot that Miley herself tweeted early this morning.
Coming soon in @wmag "bed time portraits By @mertalass & @macpiggott" so xxxited check it out 2 see the real deal⭐️ pic.twitter.com/d6wY8gayJC

— Miley Ray Cyrus (@MileyCyrus) February 6, 2014
Photos via ONTD
Miley Cyrus appears naked for W magazine. 'I don't give a shit. I'm not Disney.'
Miley Cyrus dresses as a slutty Michele Bachmann on SNL.
Miley Cyrus topless courtesy of Terry Richardson.
Miley Cyrus wears see through for SNL after party. Another disaster…
Miley Cyrus tweets picture of her and a sex doll.