Whilst most Venezuelans are being forced to reckon with the extreme hardships that have come their way since the implosion of the economy and ensuing national protests, Hugo Chavez's daughters have continued to live a surreal fantastical existence far removed from the rigors of most Venezuelan's reality. Living, that is a fantastical 24/7 party existence from the comfort of the Presidential palace.
Venezuela protestors force government's hand. What's next? 
Is Venezuela on its way to civil war? Black market currency turmoil and street riots.
Venezuelan beauty queen Genesis Carmona dead. Shot in the head during protests. 
Since coming into office over a year after Chavez's death, President Nicholas Marduro, has not been able to access the Presidential palace which constitutionally he is entitled to. Why? Because Hugo Chavez's three grown children, Marie Gabriella, Rosa Virginia and Hugo Jr are still living in the villa, where they have lived for a decade and have to date resisted Maduro's attempts to be rid of them.
The two daughters have allegedly converted La Casona into a social club for friends of the family. According to recent media reports, neighbors complain of "deafening" parties.
Fast-food restaurants and catering agencies refuse to deliver to the mansion, allegedly, because the Chávez kids have stopped paying their bills. Even concert organizers are complaining; Chavez's daughters allegedly force them to hand over dozens of free tickets so they can share them with their friends. (Both the country's Information Ministry and the Chávez family were unavailable for comment.)
Originally built in colonial times, the glamorous La Casona residence was acquired by the government in the 1960s, during the presidency of Raúl Leoni. The mansion features six main bedrooms and several more for guests. It also comes with a swimming pool, a private movie theater and a series of private gardens.
The complex is surrounded by walls and guarded by policemen, in no small part because of the antique furniture and priceless pieces of art inside.
Since 1966, the villa's inhabitants have handed over a detailed inventory to the new first family. But according to Carmen Sofía Leoni, the daughter of former president , that practice stopped in 1999, when the Chávez family moved in.
'No one knows what's inside the house,' she recently said in an interview, 'or what state it is in.'
While Hugo Chávez passed on living at the Presidential Palace, preferring instead to live with his fellow soldiers in the Fuerte Tiuna military complex, his children, however, have found a certain affinity and fondness for the high life that La Casona affords.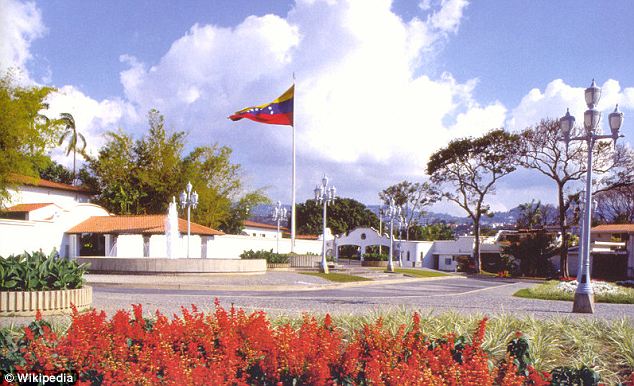 Lest one think that all is needed is Maduro sending an edict to remove the squatters, think again.
Several attempts by Maduro himself to make Hugo Chavez's children leave, have failed, as Chávez's children staunchily refused. Helping their cause is the fact they still have powerful friends in the current government, including close ties to Diosdado Cabello, who chairs the National Assembly and is one of Maduro's biggest rivals.
Then there's the added inconvenience of Rosa Virgina, the eldest of Chavez's daughters, who happens to be married to Vice President Jorge Arreaza.
Ironically, Maduro and his wife, Cilia Flores, have begrudgingly taken up temporary residence in a villa normally reserved for the vice president. There's plenty of room there: Arreaza reportedly spends most of his time in La Casona with his wife.
The Venezuelan government declined to comment about Maduro's living situation or those of the Chavez children. But as national protests continue to rage, observers believe Maduro may soon be in the dog house.