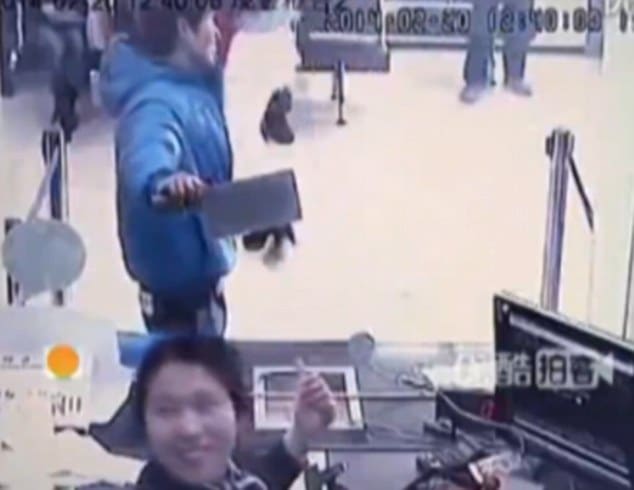 Kids have you tried robbing a bank? And if you were to rob a bank what do you think it would take to actually get the job done? A gun, a machine gun, a hand written note explaining give it up or else, a spachler, a butcher knife or how about in the case of one China Construction Bank in Shanghai, China for instance- a meat cleaver ?
kokadu: Recently, a man walked into China Construction Bank in Shanghai with a meat cleaver. He apparently wanted to rob the bank. Things did not go as planned. 
The man entered the bank, while talking on the phone. When he looked like he was going to pull the fire alarm, a guard supposedly shouted at him. The man then pulled the cleaver and allegedly told the teller, "This is a robbery.
The teller, safe behind glass, chuckled as the man continued to talk on the phone.
It isn't long before the man is easily tackled by two security guards and taken into custody.
Subsequent to the attempted hold up police took the would-be robber into custody to question his motive and evaluate his mental faculties.
Since the failed robbery attempt it has been disclosed the man is a mental patient. Not that wasn't necessarily obvious….