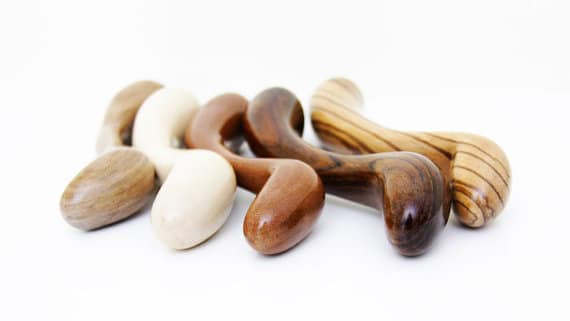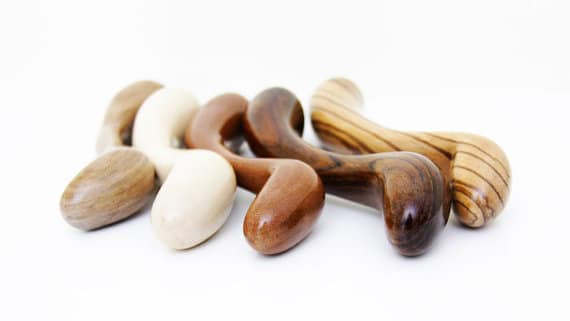 But does it vibrate? Well let's leave that to your imagination…
For those of you looking for some new self pleasuring excitement in your life have a gander of the offerings courtesy of DeeLeeDoo who recently came out with a wooden dildo which is starting to gain attention and fanfare.
Tells DeeLeeDoo creator Iris Trstenjak via etsy: When designing a sex toy, materials are an essential ingredient. Wood, along with all of its unique qualities was an obvious choice. With proper woodwork and a delicate finish it turns into an all natural sex toy, which will last you a lifetime. 
I aspire not only to design elegant, all natural sex toys but also to make them into distinct, artistic and personable bedroom accessories. I want to destigmatize and turn them into objects, which can be displayed as well as enjoyed. Sensual, erotic and natural.
Which poses the question will a little bit of wood help those of us reluctant to explore some self gratification and one's sexuality? Hopefully the idea of masturbation isn't as taboo as it ought to be, but then again in some circles it is seen as the purging of evil.
Every piece of wood is selected and sanded by Iris, by hand (and one imagines personally fine tuned).  There are more than 30 combinations of wood type and dildo design to choose from.
The good times will only cost you an initial $70-140 investment.
6000 year old dildo discovered.
Masturbation. Is it time ladies for you to also go to a female masturbating class too?
Oh really? Masturbation is healthy for you tells study.
Masturbation apps to teach you ladies how to masturbate.
Love Joule, Japanese bar devoted to female masturbation.
Sex store now offers sex toy delivery service to randy customers.
Sex Toys Now Available Via Drive-Thru