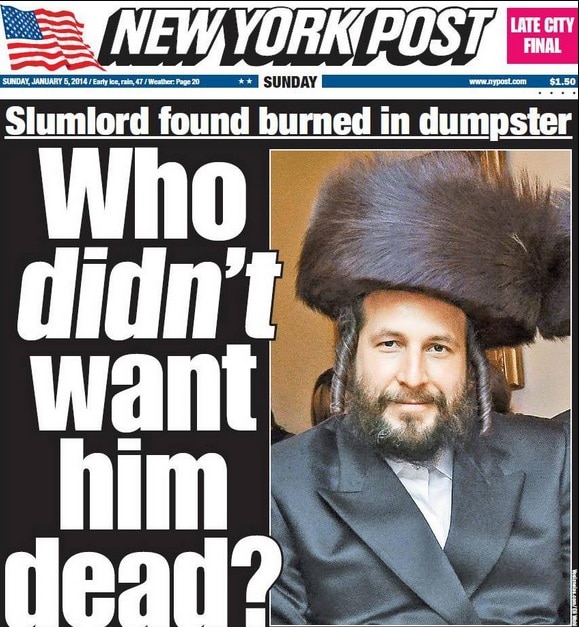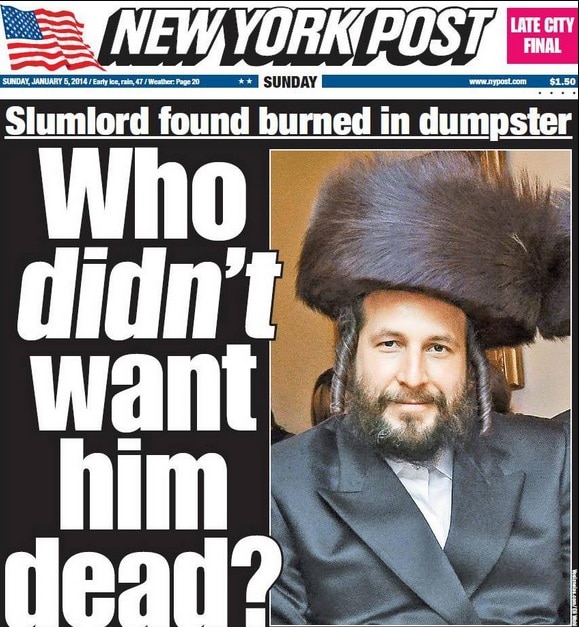 Menachem Stark: Should we be appalled by the media coverage?
Israel Perlmutter, Menachem Stark's murdered business partner is now a suspect.
Menachem Stark, murdered Jewish real estate developer. Should we celebrate him or vilify him?
In the wake of the NY Post's abrupt headline concerning the murder Menachem Stark, 'Who didn't want him dead?' consternation has played out as to whether the tabloid overstepped its boundaries?
First of, one ought to understand the NY Post is in the business to sell newspapers and if that involves some degree of hyperbole, raising the adrenaline and seeking to ask uncomfortable questions that are bound to raise eyebrows, that is just the seasoned game of a tabloid outlet. In fact it's the game of every tabloid outlet, never mind that the NY Post are loathe to use linen towels when slobbering over their next tabloid appetite.
Yet in seeking to raise the question and a play on words who else may have wanted Menachem Stark dead, the NY Post sought to ask an open ended question who the 'slumlord' (as his poor record would come to speak on the realtor's behalf) may have possibly offended or bristled feathers with given Menachem's extraordinary degree of misbehavior.
To date Stark and his business partner Israel Perlmutter who between them ran a real estate operative by the name of South Side Associates left a legacy of wrong.
According to court records, the pair absconded on major loans, including a $29 million loan for a Williamsburg property.
They also defied city and building violations and failed to return renter's security deposits (4 months up front would be asked) at 239 Banker Street, effectively shirking their responsibilities to tenants as well as a variety of subcontractors the pair worked with but never bothered to pay.
The NY Post for their part refused to apologize, instead issuing this statement: "The Post does not say Mr. Stark deserved to die but our reporting showed that he had many enemies, which may have led to the commission of this terrible crime. Our thoughts and prayers are with the family at this time of loss."
And this gave the NY Daily News to opportunity to report on the controversy, describing the Post as a "down-market tabloid." Never mind that's like asking which kettle is more black, if such questions are to even be asked.
And of course if the NY Post is going to ask the rhetorical question of who else wanted Menachem Stark dead, Brooklyn Borough President Eric Adams had this to tell: "His children did not want him dead. Residents of this city did not want him dead. We are clear that is wrong."
Went on to assert Moses Strulowitz, a brother in law of Stark as to what may have precipitated Stark's death:
"The attacker is not from the Jewish community,"
"We don't hurt each other. . . . It was a hit job. It looked like a Mafia job or either anti-Semitic." 
Is that really true? Jewish faiths don't hurt each other, or at least not blatantly? And is this really a crime of 'us vs them?'
But there were nevertheless instances of poor journalism from the nypost.
The article goes on to contain misleading information from a sealed report, leaked by the unnamed investigator, regarding a 2011 arrest.
"He was involved in shady business deals, was known to carry around a lot of money and had a sealed arrest for forcible touching" in his past, one law-enforcement source told The Post.
The alleged victim was a young teen girl, said the source, declining to give further details."
The New York Daily News thankfully went on and did some due diligence and reported today that the leak was incorrect.
"Stark was charged with forcible touching in 2011 when undercover cops arrested him on the subway in Midtown, accusing him of rubbing against a woman.
But the alleged victim said Stark was innocent and refused to sign a supporting affidavit, his lawyers told The News. Manhattan prosecutors later dropped the charge, and Stark filed to sue the city, lawyers George and Michael Farkas said. He settled the case for a payout in 2012, they added."
Yet what was perhaps disturbing is the nature of some of the purported sources that the nypost used to quote community sentiment towards Stark.
Told the nypost: Many on Stark's enemies list took to social media Saturday — and not to mourn his passing. "His slanted shtreimel on his head gives his crookedness away," one commenter wrote on Failed Messiah, referring to the victim's fur hat in a photo.
According to frontpagemag Failed Messiah isn't "social media", but in the author's eyes an Anti-Semitic hate site.
Tells the site: 'There's no reason to think that anonymous commenters on an Anti-Semitic hate site are Stark's enemies. They would respond in the same exact way to a story about any Orthodox Jew.'
The New York Post could have just as easily quoted commenters on Stormfront or any Neo-Nazi site with the same results.
Again it's interesting that members of the Jewish press and community have chosen to turn this into a debate of us vs them, yet again.
Ultimately as a community we have to oppose Stark's death but it's the nature we oppose his death in a civilized community that sets us apart from those who went on to murder Stark. To raise questions as to why Menachem Stark was a marked man is only newspaper proper journalism, but then again one ought to wonder as to the nature of how any media entity goes about gathering its quoted sources and facts and whom it chooses to paraphrase.
At the same token, the Jewish community must also embrace the abrupt question as to how this crime came to happen and what it is about Stark or their community that may have incited such behavior in the first place or whether it was just the lonesome act of a madman who may have facilitated such behavior. And as much as any one of us has the right to believe and act in any way that we wish or affirms our belief system one ought to also be aware and cognizant that sometimes there are points of views and retributions beyond one's own capacity to accept. An ugly mandate that an ugly newspaper was compelled to reiterate in response to an ugly crime…