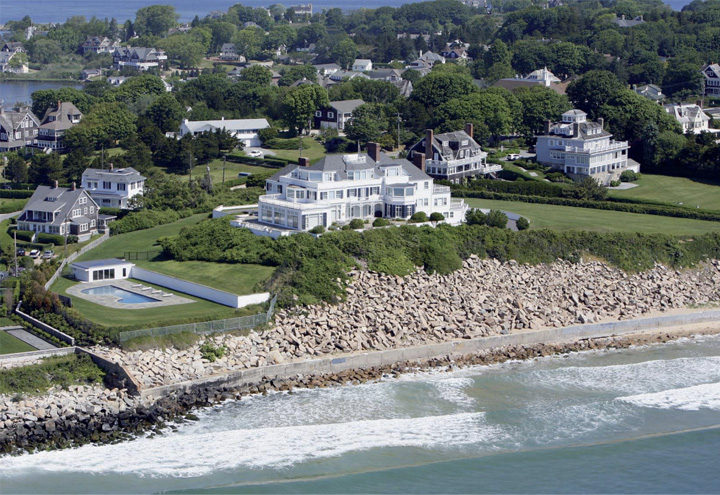 It seems Taylor Swift has brought a shit storm in her local neck of the woods after going on to erect a giant seawall around the perimeter of her new Rhode Island beach home.
To date neighbors in the exclusive Watch Hill enclave have told they are furious over the singer's 'enormous' sea wall since that shit has restricted their ability to access the public beach. Not to mention the inconvenience it's caused local fishermen and surfers who have been using the stretch of land for generations.
The hubris came after Swift went on to recently acquire the largest and most lavish property in the vicinity and deciding to erect a giant sea wall to preserve her 'privacy.'  In essence becoming a general eye sore to an otherwise picturesque idyllic vista.
Further angering locals is the fact that the giant sea wall (which has cost a cool million to erect) went up without public notice. With many feeling that they should have been allowed to weigh in.
Also angering locals is the fact that the sea wall (naturally made of giant boulder rocks) has obscured a memorial spot for a local, Trevor Johnson who drowned in the area in 2004 as well as being a
Local media goes on to tell our collective hero did not have to acquire building permits from the town and only had to obtain permission from the state Coastal Resources Management Council, an environmental organization that interestingly went on to hold no hearings before granting her permission to undertake the construction.
When Swift bought the 11 000 square foot home over the summer with $18 million cash on the spot residents were said to be happy, bringing fame to the wealthy community that it hadn't seen in years.
But just days after the purchase, a fan, Lucas H. Vorsteveld, 22, of Chicago, was arrested trying to enter the property.
In essence certifying the home would soon become the head ache mecca that locals managed to be spared as the world in recent years marched on to the dizzy drumbeat of uber existences outside of its parameters. Until that is Taylor Swift showed up.
After the intrusion, Swift responded by ringing the property with a six foot fence and posting security guard on the premises 24 hours a day – even when she isn't there. Ensuring that locals would come to love the new round the clock security presence to go along with their once idyllic private mecca
And such are the tales of glitzy well to do people who move into your  neck of the woods and bring in the trappings of success, money, fame, chink that you so comfortably got to avoid until now….but never mind at least Taylor can now have the whole beach to herself now.