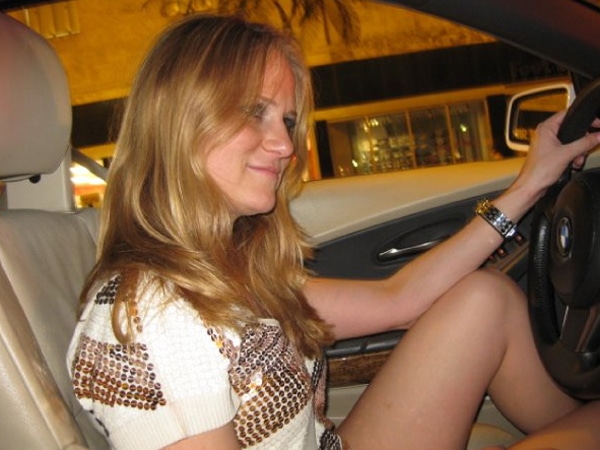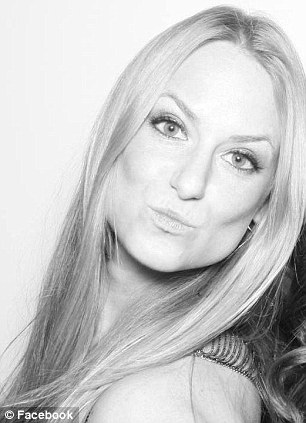 Was Justine Sacco fired unjustly?
Justine Sacco is now very sorry she got fired.
You would think Justine Sacco would know better. After all the bixch (which is what half of NYC is calling her this morning) is in the business of public relations, but it seems either her stupidity, ego, nerves or her latent intolerance/ignorance got the better of her and now the former IAC (Inter Active Corp) media pr director has found herself in deep shit after a racist tweet made the rounds.
Deep shit meaning, Justine Sacco has now been fired
Via Brian Stelter: IAC statement about Justine Sacco: 'We take this issue very seriously, and we have parted ways with the employee in question.'
The nasty shit came about when Sacco tweeted a 'racist joke' yesterday just before a 12 hour flight off to South Africa. It wasn't until she arrived in South Africa that the former publicist found out how well that tweet went down. Well actually the shit didn't go down well at all.
Tweeted our collective hero at the time: "Going to Africa. Hope I don't get AIDS. Just Kidding. I'm White."
Kids take a moment to gasp and guffaw. I sure know I did.
Upon making it to Cape Town twelve hours later, Justine Sacco to her find a catatonic thunderstorm hovering around her head.
Went on to tell a variety of users on social media, who by now were egging for IAC's boss, Barry Diller to have her head:
'outrageous,' 'inappropriate,' 'worst tweet of the year.'
'WOW! Reinforce the ignorant American stereotype much?'
'Are you even real?!? This is utterly ghastly on so many levels.'
 'listen, homegirl is about to be FIRED.'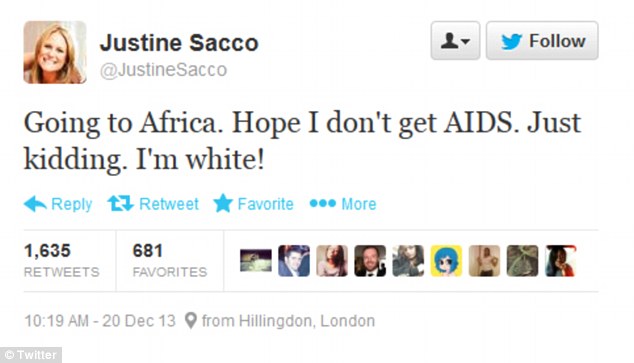 It wasn't long that the former publicist deleted her entire twitter account.
Yet by now that gesture meant very little as Barry Diller and co desperately reached out for a wide swath mopping effort.
Told a rep for IAC who was forced to do their very own pr salvation:
'This is an outrageous, offensive comment that does not reflect the views and values of IAC.  Unfortunately, the employee in question is unreachable on an international flight, but this is a very serious matter and we are taking appropriate action."
But here's where shit got really yummy. Whilst twitter was awash with condemnation for Sacco, one twitter follower chimed in that they would be making their way to Cape Town airport and photo Sacco upon her arrival. Hence the below photo which came along with the following hash:
Interestingly Huffington Post went on to wonder if there existed the possibility that Sacco's account may have been hacked.
However that too seems quite unlikely given the prolific nature of tweets coming out of Sacco's gills which could be said to be offensive on a sunny day, let alone rainy days.
Read one recent tweet, perhaps aware that her mouth has a propensity to self damnation and self destructive tendencies:
'I can't be fired for things I say while intoxicated right?' 
What do you think kids?
As an aside the UK's dailymail goes on to report since looking at the IAC website, Sacco's name has been removed and has been replaced with 'corporate communications.' The voice mail which previously gave out her personal cell phone number for media inquiries with a strict deadline, has also been changed. Can anyone guess why?