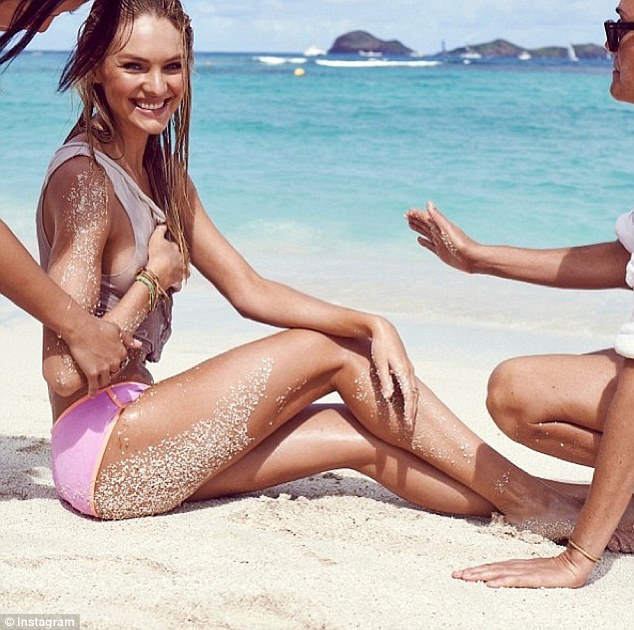 Candice Swanepoel Instagram, this is the wet dream you were waiting for too…
Nothing it seems says you arrived as a bikini model than taking on the plunge as a Victoria's Secret model on assignment.
Case in point, the latest dithering courtesy of South Africa's  Candice Swanepoel, 25 who took to instagram to post her latest eyesores for your near explicit viewing pleasure.
Tells the UK's dailymail, the daily purveyor of slinky femme fatales (give the world what they're begging to see and be….):
With her never ending legs and fabulous curves, the model posted three videos alongside the pictures entitled 'this is what happens when we get bored in Turks and Caicos.'
Continues the public relations pitch (could it really be anything else kids?):
With her hips swaying from side to side, the tassels on the star's dress accentuate the rhythm of the  beat and model's curves. 
Yes accentuating our collective wet dreams, how versatile can tabloid media ever be. One minute reprimanding us for gawking over slinky femmes, the other advising us to stop hating us ourselves for falling short….
Continues the sales pitch: Smiling and laughing Candice looks like she's having a fabulous time on the beach, this time in St Barts, as she models the range. 
She said: 'Love the new cheeky bottoms by Victoria's Secret. #Finally #Peace #StBarts'
Oh well, if only you could be this fabulous too. Unless of course you already are ….?