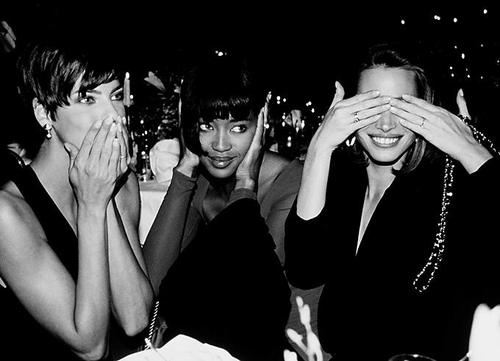 One of the more intriguing questions within fashion circles is whatever happened to the era of the supermodel?
It seems the idea of the model as a supermodel that once captivated our attention has waned or has it? The era of the late 80's and early 90's brought the idea of the supermodel to the fore with legacy models such as Linda Evangelista, Kate Moss (who still kicks it) Naomi Campbell (still out there), Christy Turlington, Helena Christensen, Claudia Schiffer, Cindy Crawford and the more legendary models of today who still command quite a bit of attention, including models such Alessandra Ambrosio, Miranda Kerr, Constance Jablonski, Bar Refaeli, Candice Swanepoel, Lily Aldridge, Adriana Lima,  who in many ways have become more celebrities than simply super models.
And heading up today's ranks of highest paid models include Karlie Kloss, Cara Delevingne, and Coco Rocha – all three are the highest paid, most popular models of today.
Perhaps we can blame the proliferation of the internet, reality stars and tabloid media which suddenly elevated anybody and anyone at any given time to a cult 'tabloid' status which in one way raised the profile of many but perhaps had the effect of lowering the bar.
Thought one commentator:
Soon after, designers, advertisers and leading magazines worked to destroy the capricious supermodel era and to standardize the profession – creating easily disposable, flavor-of-the-day models. The result is a democratic modeling industry with hundreds of pretty, waiflike young women who are not given the time nor the necessary management to make their mark and create a new generation of supermodels, who would inject sorely needed excitement into a stale and repetitive fashion industry.
Opined one forum:
After countless debates on who are the neo-supermodels if there even are any, I think it is first time to discuss wether they are actually coming back in a topic devoted especially to that. As far as I am concerned, they are so very much on their way and right now at this moment, the industry is slowly determining who they will be and when they will be officially supermodels. Of course, the original Supermodels – which I'll write with a capital S – will never be replaced, but that does not mean that there will not place for a new crop of girls and women who will attempt to reach the same status. 
Basically what happened in the late nineties is that the Supermodels became out of vogue. The fashion world wanted clean, faceles slates to hang their clothes on and nothing more. But recently, this has been changing a lot IMO. 
Reflects some commentators on a Facebook wall posting that I came across:
Yes, unfortunately that era is gone. Of course the girls are attractive, each in their own ways, but to compare any girl with one of the legends… That's what is a bit laughable. Not that the girls of today can't hold their own & then some! There are plenty of talented, successful, and gorgeous girls out on the fashion scene… Just can't call them Naomi, Linda, Christy, Cindy, Claudia, or Niki
is vanished the era of supermodels cause the industry wants that way more young girls that look like the just comeback from school,way to skinny ….u don't even know if its a man or a girl…..But still gigs out there that is exactly as beautiful as the supermodels from the 80's but they are not in the spotlight….cause are considered old n fat….