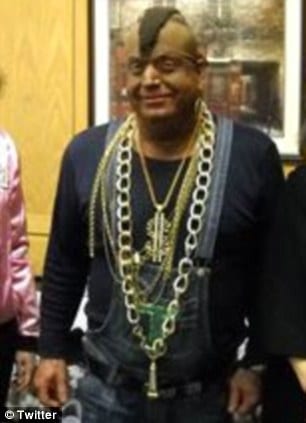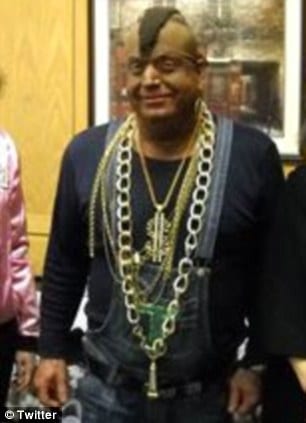 White people dressing as blackface Trayvon Martin for Halloween is not loved.
Julianne Hough blackface is a disaster for Halloween party.
It seems the furore with one high school vice principal, Lionel Klotz has yet to dissipate after coming to a school Halloween party dressed in a blackface Mr T outfit.
Since images of Canada's Mayfield Secondary school vice principal surfaced on social media, the Peel School District board was inundated with complaints about the incident.
With antagonism sky high, Lionel Klotz has been asked to stay home whilst the school board investigates the incident.
Told education director Tony Pontes in a recently released statement: 'I would like to apologize on behalf of the Peel District School Board and senior administration for the hurt caused by this incident,'
'Our board does not condone or tolerate actions of this type.'
The outrage first came to pass after Lionel Klotz decided to dress up as 1908's TV action hero character Mr T, in blackface with accompanying gold chains, mohawk.
While the school vice principal may have thought the costume would be taken in jest it seems many have gone to perceive it entirely in a different way.
Told Peel resident Rad Dockery, who went on to post the image on twitter: 'When I saw the picture it rubbed me the wrong way,' 
'I don't see it as malicious, but I do see it as insensitive.'
In an interview, Rad Dockery went on to tell  he was offended to see a school administrator wearing blackface: "The history of blackface, for those of us who know it, it really makes us cringe,"
"I get it, it's Mr. T. But if I want to look like Brad Pitt, I don't paint my face white."
Went on to tell twitter user Natalie Rea: 'RT this if you think @PeelSchools' VP Lionel Klotz's suspension is going too far. An error in judgment, yes. An infraction, no.'
Whilst the schoolboard and local residents may have gone on to express disapproval, Mayfair students have chosen to stand by their vice principal, having since gone on to create an online petition, SaveKlotz2013.
Contemplated  'ChiefKeeif' on twitter: 'So mr.klotz can paint his face green to be Shrek but he can't paint it to be Mr.T? Ridiculous… #SaveKlotz2013,' 
Whilst another 'blackalaureate,' contemplated the following: 'White people think you HAVE to have blackface to dress up like a character because all they see is black, not humanity. #SaveKlotz2013,'
Since having completed its investigation, the school board has to date publicly declined to tell what action if any would be or has been taken against Lionel Klotz. Instead board spokesperson Ryan Reyes told the matter was a 'personal one.'
Others have gone on to speculate that Klotz has since been removed from his post, wrote one commentator on the web:
'Yep, Mr Pontes removed Mr Klotz from Mayfield, so the kids their are denied an excellent VP because of discrimination.'
Contemplated one commentator who in essence exposes the conundrum of the school board's decision:
I am totally offended by the letter received from the daughters school Mayfield SS. Tony Pontes "We will also be working to ensure that the celebration of Halloween is respectful and inclusive in all Peel Schools..what exactly does that mean: no black child can dress as Cinderella, Superman, Caspar, Lurch…no white child can dress as Michael Jackson, Princess Pea, Jay-Z. No Indian or Asian child can dress as any black or white icon. NOW THAT IS RACIST!!!! Even more ridiculous is that there is "TRAINING" going to be given to all administrators WTF has Canada come to…..
Then there was this earlier comment in relation to celebrity Julianne Hough after she went on to become the object of online scorn after donning a black face that had me wondering as well:
It is a great situation to learn the difference between cultural etiquette and confrontation of the lack thereof. Too many people get caught up in the messenger instead of look at the message. I have noticed that those who are insulted by such things as these are actual the one's who continue to view life through whatever lens they are insulted by. Racism can only exist if you still view people from that viewpoint. It doesn't matter which side of it you are on. Whether you are the one shooting or the one being shot.