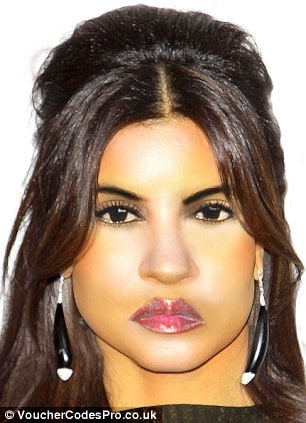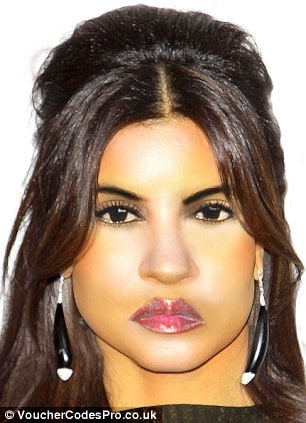 With media attention with Kim Kardashian's baby at fever pitch as all things touched and made by the maestro herself, an artist has offered a rendition of what North West might look like when she's 25 years old.
Vouchercodespro.co.uk commissioned experts to imagine Kim Kardashian and Kanye West's four-month-old baby around the age of 25.
The results speak for themselves although what exactly those results are I'll let the viewer keep to themselves.
Needless to say some commentators on the web have offered the vision is hardly complimentary and if anything weird and scary, but perhaps that too ought not to surprise the weary trod Kim Kardashian and papa Kanye West who will obviously take their upward stride to your collective hearts with a grain of salt.
Designers from Vouchercodespro.co.uk went on to tell how they created the 'aged' image of North by combining photos of her with ones of Kim and Kanye, now aged 33 and 36 respectively, when they were in their twenties.
Not content to just draw attention on Kim Kardashian's baby, the commission decided to extend the future look of the Kardashian clan offspring by also paying attention at North's cousin, Mason and Penelope, the two children of Kourtney Kardashian, 34, and her long-term partner, Scott Disick, 30.
The UK's dailymail goes on to note that Mason, who turns four years old next month, is seen as an 'adult' sporting his mother's brown eyes, his father's hair and a combination of both their complexions.
Meanwhile, one-year-old Penelope, appears as an 'adult', bearing more of a resemblance to her father with small lips and a low brow bone – although like her brother she hasn't inherited his blue eyes.
Told Vouchercodespro.co.uk: 'Our designers focused on highlighting the most obvious facial features of each of the children and their parents to try and give a realistic interpretation of what they may look like in the future.'
Of course the wild card is nature and genetics itself as well as the environment at hand and this being the Kardashian clan, a quick visit to the plastic surgeon may also offer some 'delightful' surprises in the not too distant future either…