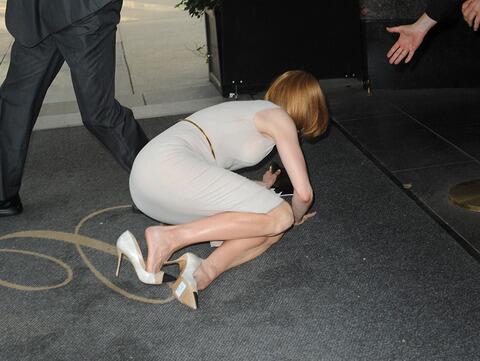 The world is sighing in deep relief after heartfelt news raced around social media outlets that Australia's greatest export in the cinema realm, Nicole Kidman had the displeasure of being sent flying to the ground outside of her NYC hotel yesterday morning.
The mishap came about when a paparazzo (ahh yes let's point fingers) Carl Wu came flying by the Aussie export in the hopes of taking a clandestine picture of her royalty after returning to the Carlyle hotel after attending the Calvin Klein fashion spring summer collections.
The intruding paparazzo went on to be issued a series of tickets for riding a bicycle along the sidewalk, riding a bike without a helmet, reckless endangerment, whilst Nicole Kidman effortlessly went on to shake the dust off her knees and resume preening for the cameras.
Went on to tell Nicole Kidman later that day of her ordeal: "I'm up, I'm walking around, but I was shaken."
Witnesses told TMZ that Australia's collective hero didn't have any visible injuries. Another onlooker told  that while Nicole Kidman "looked hurt, there wasn't any blood."
Those who saw the incident also said it appeared that the 19 year old paparazzo tried to hit his brakes and failed, losing control of his mind bike.
Nevertheless word now has it that the 46 year old actress is now set to press charges against the scumbag paparazzo…
If only you could be this glamorous and much adored too…
above image via twitter, below image via twitter here