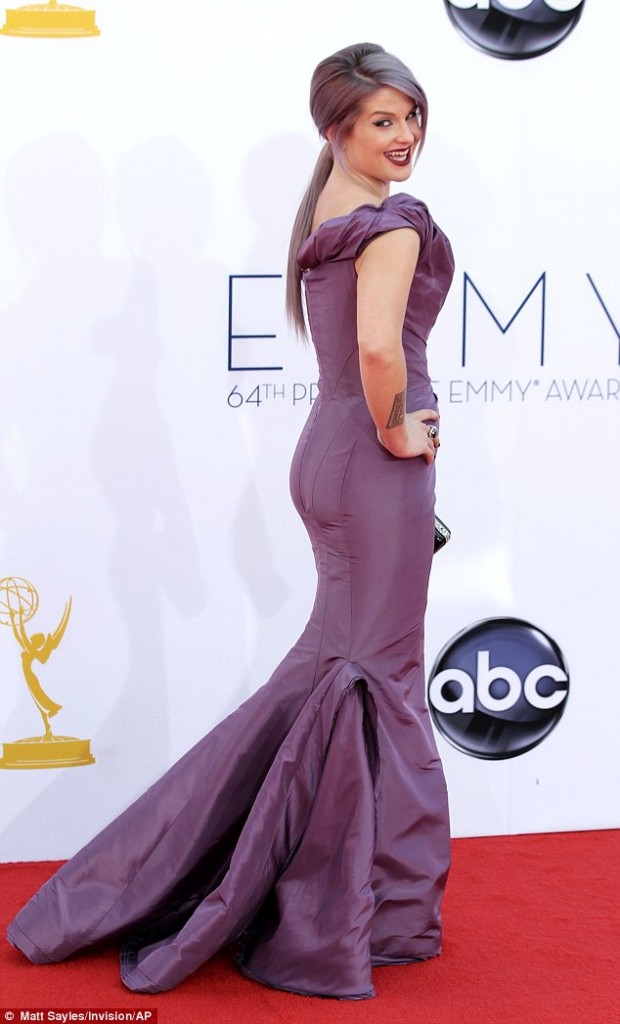 Like most high profile events that require a modicum of dress sense one is sure to expect some winners and of course plenty of losers. For one reason most people and that includes Hollywood starlets and their handlers continue of making a mess of things, but then part of me that might just be the plan these days as long as they somehow get some sort of media coverage.
Which of course brings us to a run down of the top 7 worst dressed posers at this year's Emmys. Shall we then…?
Coming at number 7 is Julianne Moore in her canary yellow I'm never too bright for Hollywood gown as designed by Christian Dior. The whole thing strikes one as a monstrosity and carelessly thought out
From the vamp lipstick, past the ankles gown and up to the knuckles dress this yellow canvas bag quickly deserves to go back where it belongs: in this year's Halloween costume ball.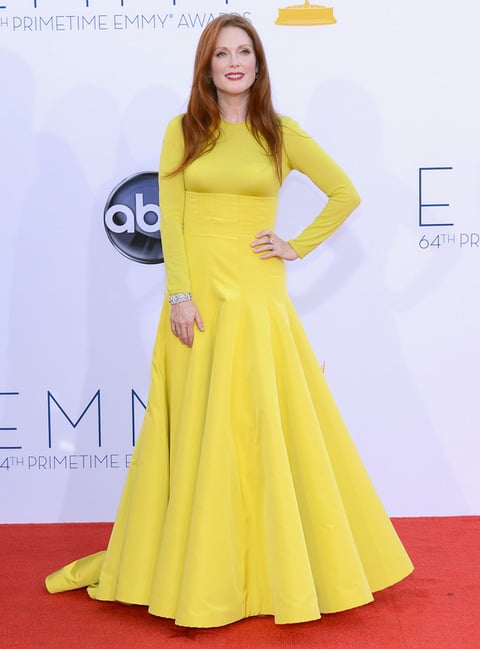 Number 6: Ashley Judd and her beehive do and mauve sailing wing flapping in the wind. I think on normal days Carolina Herrera might just work for Ms Judd but that train behind her and the tart look on her face begging for a hitch hiking ride to some cheap hotel just didn't cut if for me Ashley.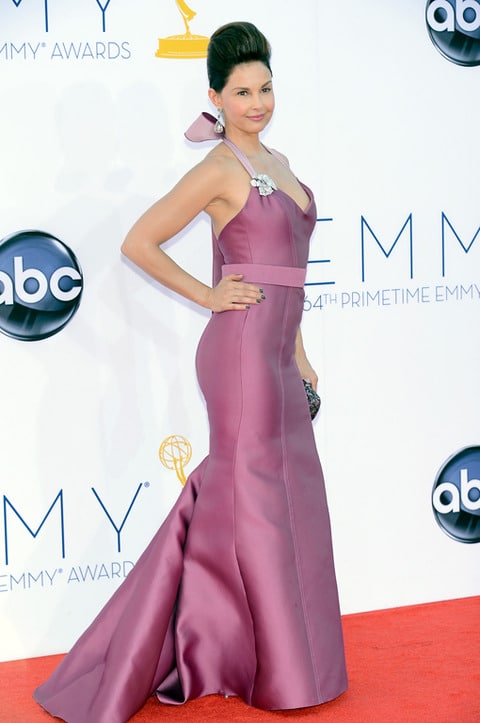 Number 5: Lena Dunham wearing a blue sack and a sour expression. Sorry kids, I know Lena knows how to out act most of you pretentious posers in a heart beat but that bixch has got to rethink her wardrobe acumen as that shit is failing miserably. Throw away the bulky Prada dress darling and come back to us with something a little more flattering and slinky. I know I'm starting to sound like my ex high school teacher, rest that bixch's soul…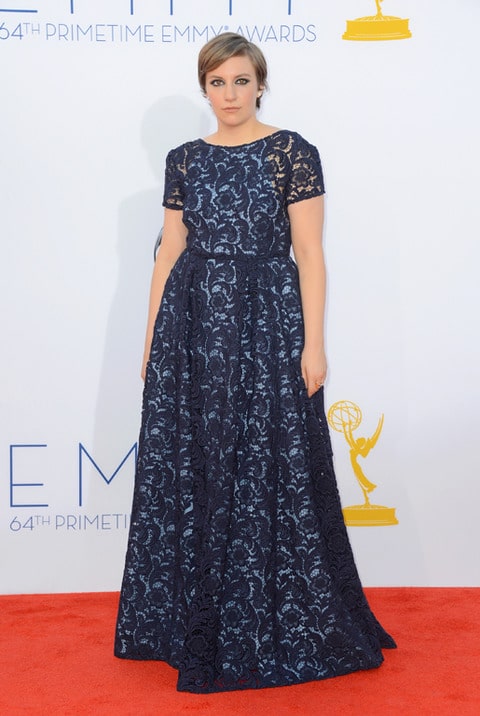 Number 4: Emilia Clark is a hawt bixch who should stop trying to be too clever. Wearing a double layered (but why?) Resort 2012 dress from Chanel, Emilia couldn't help but make us shudder. Was this her just trying to be forward progressive, reserved and not the slutty hawt bixch that we have come to love and prefer to keep loving. Please Emilia, for Blighty's sake get that slutty thing going once again…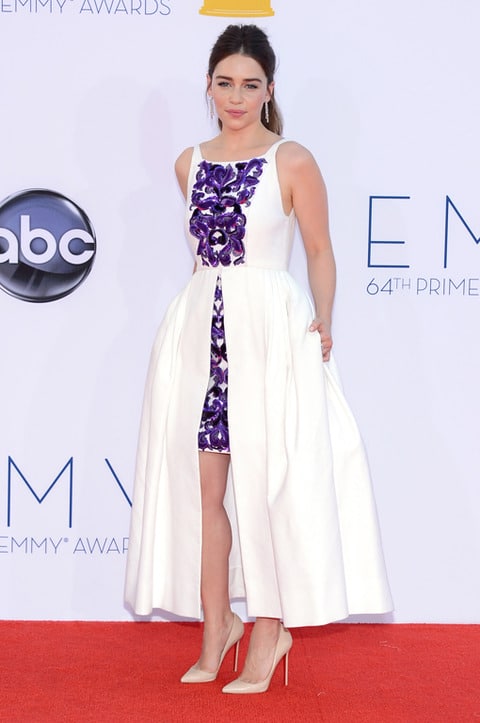 Number 3: Nicole Kidman. What was that bixch thinking? From all the strained facial muscles just begging to relapse from the sewn in bunions underneath Nicole's hair line to the stiff torpedo length 'I'm just doing my best to be a respectful Hollywood tv star now that I am no longer doing features' Nicole had me and the chipmunks in the foyer commiserating in despair.
To be fair I like Antonio Berardi whose dress Nicole was wearing (with a large sequin reversed wing design, with Fred Leighton jewels) but to be honest me and the chipmunks couldn't make up our minds whether it was Nicole looking so incredibly stiff and plastic like that put us off or the fact that we still can't get over the fact that bixch being dumped by Tom Cruise way back when?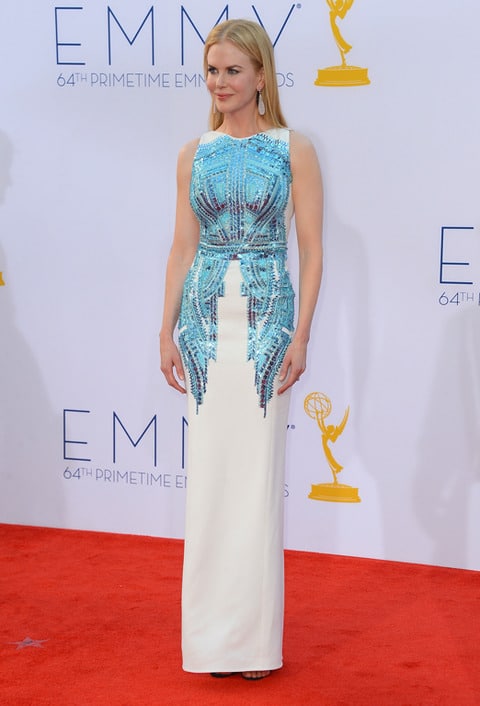 Number 2: Kelly Osborne. Kids me and the chipmunks have come to a secret conclusion that Kelly's sole aim in life is to solely to only ever make it on the worst dressed list of anything and everything. Worst dressed reality bixch. Worst human being. Worst reason for a daughter. Worst reason for a reality show actress. Worst reason for over rated and talentless nonsensical character. But that might be and the chipmunks reading a bit too much into Kelly's pathetic attempt at decency as she once again dared to come dressed as a purple vamp, with purple hair, purple smile, purple eyes, purple face, purple nails, purple handbag and of course a purple Zac Posen dress. You know that bixch Zac was throwing up in the kiddies room when that bixch Kelly sauntered in there going against his wishes: 'Please Kelly just wash your hair, don't eat anything for 72 hours prior to arrival and for crying out loud please wipe off that monstrous smirk off your face.'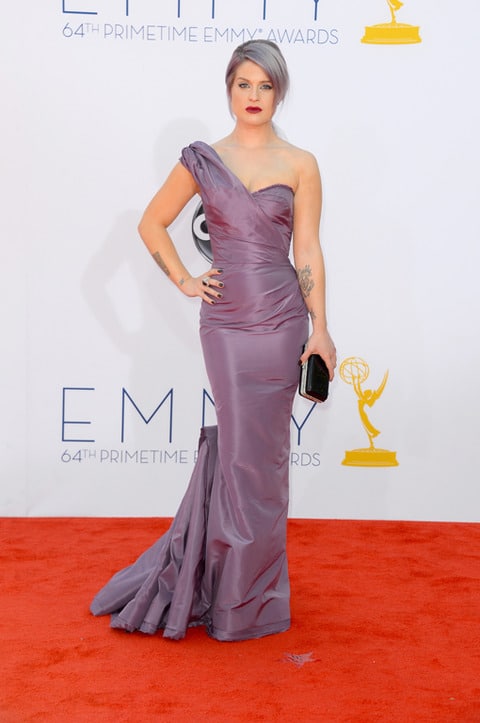 Number 1 and winner of this years worst dressed at the Emmys is a unanimous Jessica Lange who still longs for King Kong to save her tawdry ass.
Appearing as a diabolical wench in FXs 'American Horror Story' (and in real life too) the tattered once glamorous star (yes one of the chipmunks bit me on the ankle and now I am hating life) seemed to have missed an opportunity to come out and look like the once scandalous hawt bixch that she used to be.
Dressed like a Greek goddess with a simple sling going against the nape of her neck and the balance of her gown dragging around her like a red bunion sack normally used to store decomposing potatoes Jessica sighed the death of death as she nonchalantly looked into the void and thought to herself; 'And for this I became a Hollywood actress to parade my normally sane self for one of the most insane events for some of the most insane folk in the USA. Never mind I still got them bixch judges to hand me over an award (best supporting actress) cause even if my hawt ass can't tell the difference between a potato sack and a haute couture outfit I can always out act all them upstart bixches a third my age…