Andrew Jacono, The Diabolical Journey of an Uber Plastic Surgeon: Facing Trauma.
Dr. Andrew Jacono is widely known as one of NYC's best plastic surgeons, but what sets him apart from the pack is his "less is more" philosophy to surgery. To be more precise, he doesn't believe in the idea of morphing one's face to look like his or her favorite celebrity, but rather, he is more interested in how one can become the best version of him or herself with as little work as possible.
It's a weekday afternoon and I'm sitting across from Dr. Andrew Jacono at a dashing Upper East Side café. With just one quick look around the room, I can see that half the room is familiar with the man who sits across from me.
As we sip on our iced caffes, Dr.Andrew Jacono – known by many as an eminent philanthropist, professor, academic, TV star and committed surgeon – begins to expound on his philosophy of plastic surgery.
SCV: Why are we all so desperate to look perfect and how do you go about making people look perfect?
AJ: Well I think it's the idea that as a society we're consumed by the desire to look perfect. People want to look young, healthy and fit, which is an idea perpetuated by the tabloids, Hollywood and celebrities who constantly champion the idea of the perfect form, body and face.
But to cut to the chase, there is no true idea of perfect. What works for one client does not necessarily work for another. It's about working with one's own innate qualities rather than attempting to design one's face to resemble that of a magazine cover. I aim to help each patient look like a younger, more balanced and natural version of him or herself.
SCV: Isn't that an oxymoron? A natural version of themselves, especially when you're going under the skin?
AJ: It's about the idea of the golden proportion and appropriating that ratio consistently to affect the most pleasing appearance of natural beauty.
In nature, what one finds is that the idea of beauty consistently follows the golden proportion, and it's the same with the human face. 
(For those interested, the golden proportion is 1.618:1).
When you look at a person's face and note that they are beautiful, what you're really saying is that the features on that person's face are aligned to the golden proportion, and hence that person's face has the appearance of natural beauty.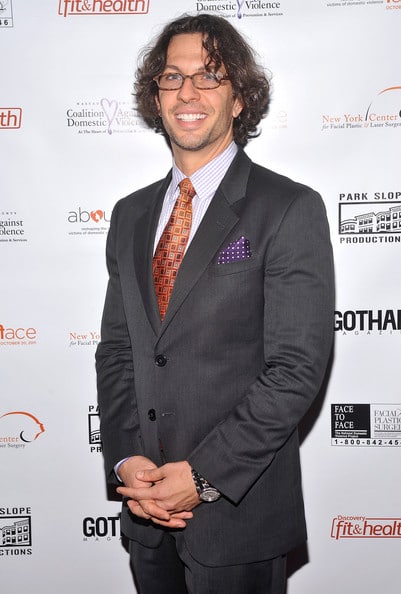 SCV: Do you ever get clients who want to do plastic surgery and you know that they ought not to?
AJ: I often find myself playing the role of psychologist, finding out what any client or individual is seeking and from there, discussing a means to bring that individual closer to an idea of what natural beauty actually represents.
I find it's often an idea of getting the patient to understand that real beauty isn't what we see on some billboard and then owning that image, but rather, encouraging a discussion about how we can take what the patient already has and get it as close as possible to the golden proportion.
SCV: So describe your typical client.
AJ: Someone who wants to retain the appearance of youth and beauty but has found as they have gotten older that they are affecting a more tired look and they want to do something about it.
It comes down to the idea, whether we admit it or not, that people are attracted to those they deem naturally beautiful. You're more likely to be taken seriously if you look beautiful in society than if you don't. That does not mean appropriating some exaggerated version of yourself, but rather a multi-modal process that involves skin care, beauty care and exercise, as well as minimally invasive surgery that realigns one's featured to the optimal proportion for one's own identity.
SCV: So first impressions count?
AJ: Yes, always. And I think a lot of executives that I see are aware of that. They take pains to look as good as possible, especially as they age and the effects of gravity begin to kick in.
I think it really comes down to an idea of reclaiming some vestige of one's youth, to iron out as much as one can whilst still looking naturally harmonious and as youthful as possible.
The desire is to retain one's identity, but as a younger version of oneself.
SCV: Why does plastic surgery have such a horrible reputation?
AJ: Because some very high profile Hollywood operations went horribly wrong.
It comes back to the idea of the golden proportion and that many of the Hollywood operations we so often see are an exaggerated version of those ratios. Whether it's the realignment of eyelids, mouth to lips, cheekbones, in the end it becomes a caricature and no longer reflects the natural appearance of that person's face, and sadly we can all tell.
SCV: How has plastic surgery changed since it became part of the public consciousness?
AJ:   This is what I strive to teach in my lectures. Effective plastic surgery today is about manipulating one's features as optimally as possible to maintain their own core identity.
That involves minimally invasive procedures which are executed with incisions that are one-third of the previously traditionally length, are hidden and are designed to reflect the golden proportions of nature.
Additionally, I have developed, and now teach, the M.A.D.E Vertical facelift procedures that rely on the support of the deep planes within one's face. These procedures now last longer, with some treatments lasting up to 12 years, while standard procedures only last up to 3-5 years.
In addition, I have developed my own line of homeopathic healing supplement products called J Pak Systems that further reduce healing times by 50%.
SCV: And what if I am not quite ready for plastic surgery?
AJ:  For those not ready for surgery I recommend Ultherapy, which is non-surgical facial tightening treatment using micro-focused ultrasound.  This treatment has no recovery time.
SCV: Tell me about your new book: 'The Face of The Future, Look Natural, Not Plastic: A Less-Invasive Approach to Enhance Your Beauty And Reverse Facial Aging.'
Dr Andrew Jacono picture found here