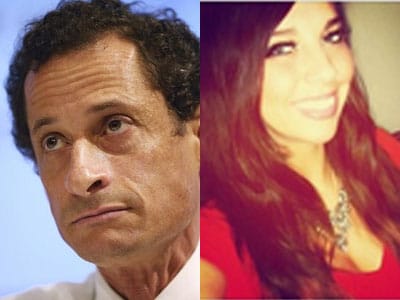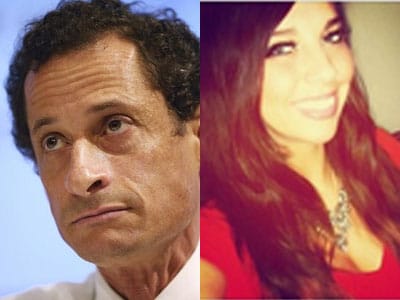 NSFW: Anthony Weiner's sexting partner Sydney Leathers wants you to watch her sex tape.
Anthony Weiner's sext partner, Sydney Leathers brags about milking sugar daddies.
Anthony Weiner's sext partner, Sydney Leathers on the way to becoming a porn star.
As the continuing revelations about Anthony Weiner's sexting partner continue to play out, it is now being revealed that the NYC mayoral candidate went so far as to offer his sexting partner, Sydney Leathers a $5000 a month condo in Chicago in exchange for sex.
Sydney Leathers goes on to tell that during her sexting trysts with Andrew Weiner he went on to disclose "I'm huge, I can help you.'
She also goes on to offer that our collective hero often fantasized about making love with her in the pad.
Tells our 23 year collective vixen and aspiring political scientist: 'He'd talk about how we would have crazy, passionate sex and not disturb the neighbors and just strange stuff like that.
'He would just have all kinds of different fantasies. He'd tell me: 'Oh we'd have to keep quiet, we don't want the neighbors to know, and how would I sneak in and out without anyone knowing?'
But that's not all. Weiner also went on to brag about his influence, claiming that he wanted to get Sydney a pass to the Democratic National Convention last year – as well as a job at the Politico website. Can anyone guess why?
What though makes the assertions even more compelling is how Weiner went on to tell Leathers the above under the alias of 'Carlos Danger,' but would soon leave little to Leather's imagination as to the real identity of her sexting partner.
Asked why Sydney Leathers finally opened up about the tryst she told:
"It kind of ate me up inside that he had this secret and he was going around lying, saying he was a changed man and everything was different, great and better.
"I felt if I didn't speak up for myself, someone is going to speak for me."
Do you think kid$$$?
When asked about the subject of a secret pad after disclosing to Weiner she was considering a move to Chicago our collective vixen offered the following:
'I never asked him for it, I just happened to mention the fact, and he was the one that offered.
'I had brought up the idea that I might want to move to Chicago and I told him someone else had already bid on the condo that I wanted.
'He said, "Oh give me the address, I might know the owner" and said things like 'I'm huge, I can help you', like he has a big name and everyone knows him, he can take care of it and that type of thing.'
When Weiner told Sydney she needed to live in a 'safe area', she replied: 'Well I can't afford a super expensive or $5,000-a-month condo.'
Why decline?
From there Weiner and Leathers went on to discuss pricing levels:
'We talked about a couple of different ones. The cheapest one was around maybe $3,000 maybe $3,500 and the most expensive one was $5,000 per month. I guess he knows a lot people in Chicago.'
Goes on to reflect Leathers: 'I'm so glad we didn't have sex, I feel the situation would be a million times worse.
'I feel sorry for my family and friends more than anything… never again, I've definitely learned my lesson.'
top image found here
And then there were these reflections on the web that made me wonder as well:
Anthony Weiner is disgusting, but this girl is simply a trashy, attention-seeking wannabe. I doubt anyone believes she has an ounce of remorse and is simply trying to parlay this into an extra minute of "fame". Are we sure her last name isn't Kardashian?
"She kept damning evidence to protect herself" ummm, she kept damning evidence to get paid. Too bad she was too stupid to realize everyone on Planet Earth knew what she was up too. Go away leather troll, you had your 3 min of fame.
 
Wow… he's a genuine panderer. If Weiner's not only willing, but in fact proactively eager to compromise himself for such trivialities, imagine how grotesque he would be given the leverage of the mayoralty! And, of course and obviously, any decent man who loved his wife would stop influcting himself on the rest of us, and allow his spouse some privacy in the face of humiliation and shame.
 
What jerks, both of them