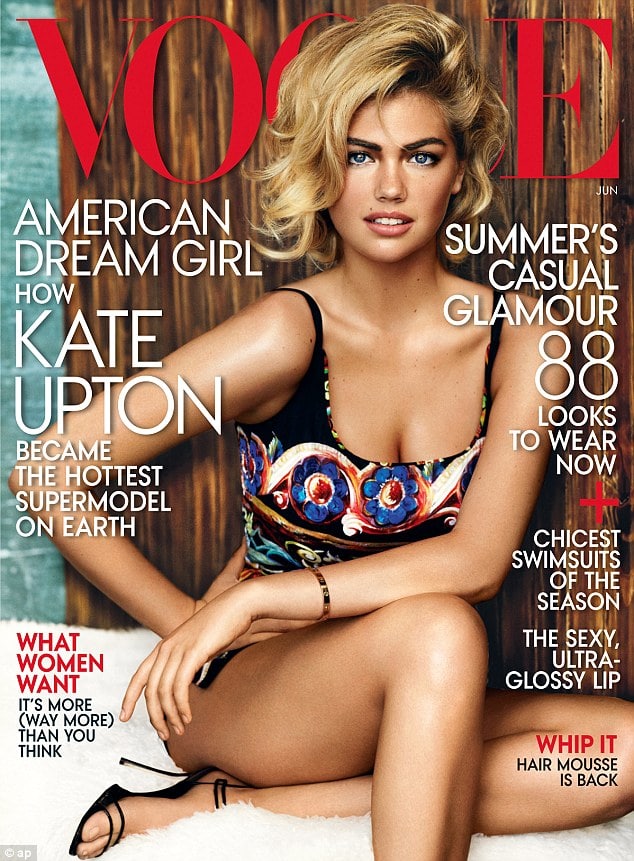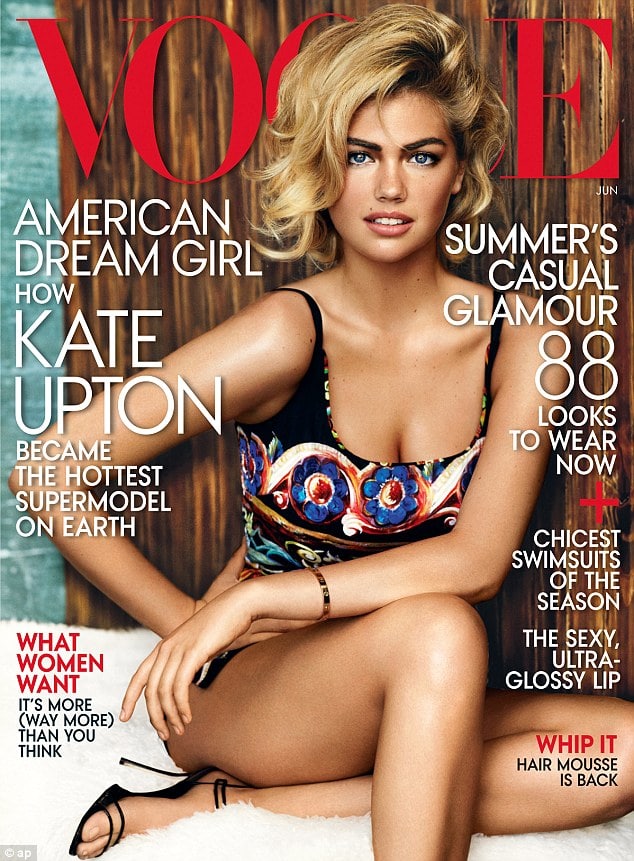 For a while there were many that held that voluptuous and buxom 20 year old Kate Upton didn't have what it took to make it all the way up the model food chain. But as she appears in her first Vogue cover this June, the model is indeed showing that she does have the chops to deliver. Which raises the question how did a young model who couldn't even land an agent not even 3 years ago make it this far in the first place…?
The fashion industry for anyone who pays attention is full of paradoxes and contradictions and geared to uncertain shifting tides. What may have worked last season may not work this season, what may have been held unthinkable suddenly becomes de rigeur and the must have. Of course this things don't necessarily happen by accident and as much as being in the right place and the right time goes a long way it might all come down to having the right people getting behind an idea, a concept or a new girl. Of course getting a bunch of publicity, good or bad doesn't go astray either…point in case the contentious comments courtesy of one famous casting agent Sophia Neophitou who told the New York Times:
'She's like a Page 3 girl.'
'She's like a footballer's wife, with the too-blond hair and that kind of face that anyone with enough money can go out and buy.'
Perhaps what first pushed Kate Upton into the public realm was her appearance in Sports Illustrated and the resounding applause that came along with it. Working along side famed photographer Terry Richardson also went a long way to put her into the public's consciousness as a clip she appeared in 'shaking her thing Cat Daddy' video caught the public's imagination and went viral.
But it didn't come by accident, for a while Kate Upton had to contend with naysayers who felt her buxom figure would never work in the fashion industry and she was often told point blank to her face that she did not stand a chance because of it. But somehow the young model persevered and managed to grab the attention of those who decided that there was something quite special about the model after all.
But Vogue does the strange thing of almost justifying why in the end they chose to put Kate Upton on the cover. Which makes one wonder why are they going so far out of their way to justify their inclusion of the model?
nymag: While it's refreshing to see a model who admits she works hard for her figure and doesn't just chalk it up to good genes, why does Vogue need to justify her voluptuousness with tales of her grueling workouts and strict eating habits? Are we supposed to be more respectful of her body because it's the result of careful discipline? Would Vogue have put her on their cover if she ate burgers and didn't exercise but looked the same? 
In the end Kate Upton goes on to praise her own down to earth attitude and happy go lucky personality that allowed her to charm and impress those that eventually came to see her particular charm and assets as a must see. She also goes on to acknowledge that much of her success comes down to the popularity she has been able to savor courtesy of the internet. Then again appearing in Italia Vogue and British Vogue probably helped the 20 year old's cause who finally got the go ahead from US Vogue this summer…even if they are still stuck on the issue of fat.
Kate Upton stars for Vogue. Is high fashion ready to start featuring curvier girls?
Kate Upton slams detractors for calling her fat. "I'll eat when I want to!'
Email chain reveals Skinnygossip blogger relents after calling Kate Upton fat.
Kate Upton gets dissing from pro thinspiration website: Huge thighs, no waist, big fat floppy boobs, terrible body definition
Kate Upton's breasts star in new Terry Richardson video.
Video: Kate Upton's breast land on the cover of GQ's July issue.