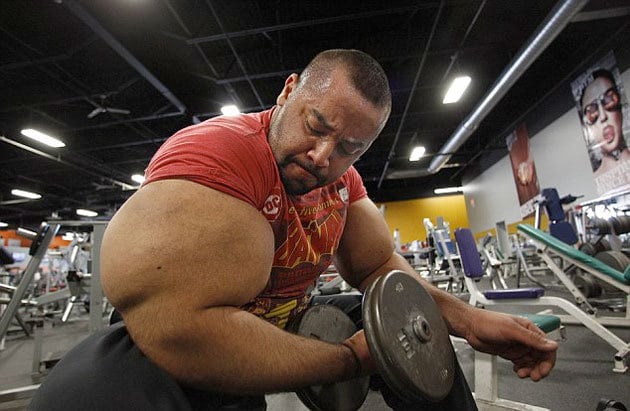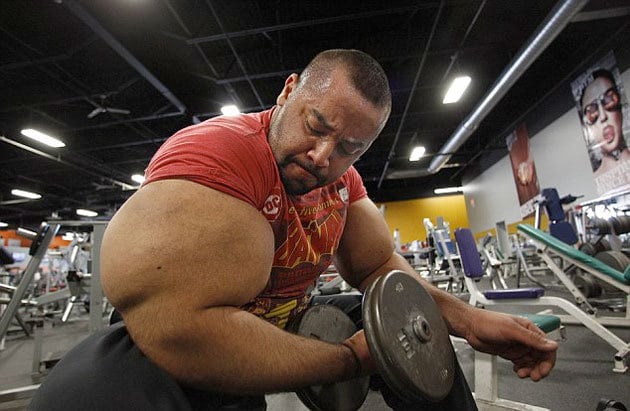 Meet the real life Popeye with 31 inch biceps. 'Big Mo' has the biggest biceps in the world.
Real life Popeye, 24 year old Moustafa Ismail happens to boast the Guinness World Record for largest biceps at a staggering 31 inches, but unlike the fabled cartoon Popeye, who purportedly draws his strength from, Ismail is allergic to spinach.
Tells the Egyptian who is the first Egyptian to make it to the Guinness World Records :
'I like chicken and beef – anything but spinach.'
The UK's dailymail goes on to tell the following:
His incredible physique has earned him dozens of trips to countries around the world, including the UK.
He is stopped wherever he goes by men and women wanting to feel his arms and said that some of his admirers tell him his body motivates them to workout – while others have even said he inspired them to 'get off drugs'.
In an effort to counter critics who reckon his biceps are fake 'Big Mo' as he is nicknamed even subscribed to an ultrasound on Japanese TV to prove his biceps are real.
Told Ismail: 'It is hurtful. I'm proud of myself.'
Now living in Milford, Massachusetts the avid body builder tends to his family and works a grueling 70 hours a week as an assistant manager at a gas station.
In order to get his work outs in, Ismail begins his 3 hour training regimen at 5am where he focuses on cardio, strength training and body sculpting – plus lots of bicep curls.
Tells Ismail who worships muscle builder great Arnold Schwarzenegger:
'It's not about me lifting heavy weights. It's about me making the right techniques, even with the light weights, but getting good results out of that.'
And what does he eat you wonder to support his frame?
According to the dailymail, Ismail on a daily basis eats 7lb of meat, 9lb of carbohydrates and three gallons of water every day, and washes it all down with three protein shakes.
But in case you think Ismail is resting on his laurels, he tells how he plans to now add eight more inches to his biceps- taking him to 40 inches.
'To reach that level you have to believe in yourself. I can do it if I will just keep pushing, keep on working out. Maybe it will take a year to reach that goal.'
The Egyptian Popeye says there is only one downside: 'I will look scary.'
That said the ultimate question is why does Big Mo love weights and why has he savored the absurd shape of his biceps that many would simply find repulsive, is it because of the sense of power it affirms, self validation or simply it's to let the world know at any moment that he alone is undeniably the best and biggest at one thing that very few of us could ever claim….
above image found here