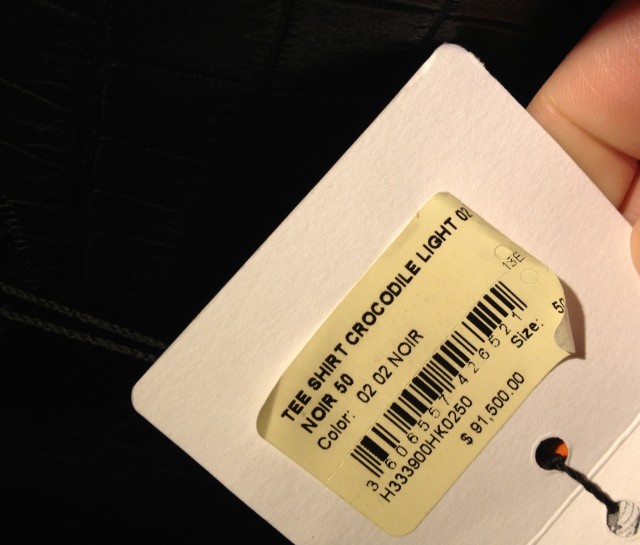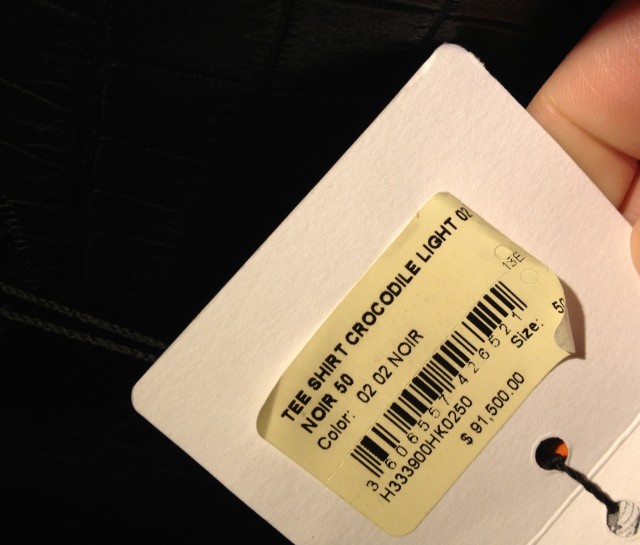 Just in case you are interested comes the Hermes $2 million handbag.
Who's up for $56 box of luxury condoms?
Kids here's something that some of you ought to be saving up for (although my guess if you can afford this good shit you already can afford a few for your friends too)- it's Hermes black crocodile skin tee going for the mere price of $91 500.
Currently selling at the Hermes men's store on Madison avenue, NYC this must have item boasts the telling signature of being made completely out of crocodile skin.
Tells the awl who attempted to take a picture of the priceless gem that you ought to consider haggling your daddy for:
Forgive me for not having pictures of the t-shirt itself; photographs are forbidden at the Hermès store, most probably as an anti-knockoff policy, or possibly to keep secret the fact that there are t-shirts that cost MORE THAN THREE OR FOUR ACTUALLY QUITE DECENT CARS.
Also we should point out that the sales tax alone would be around $8000.
$8000? Who cares about things like sales tax on must have accoutrements? Of course the irony of all of this is that pretty much the only men who can afford such a beauteous gem are probably those men who would never think to consider such gems, but then again what do I really know about over 40 year old men with sagging guts too busy being masters of the universe to actually consider buying their next must have?
Yet again it might be kind of sexy watching one of them preppy bond traders making a one definitive statement about life in the ivory lane, something that Hermes are probably expecting to pop by tomorrow morning. Or will they?
Aren't you glad that you can finally acquire that one more must have item?