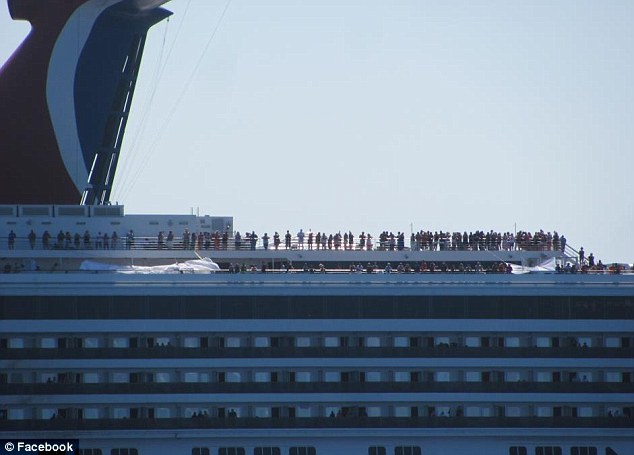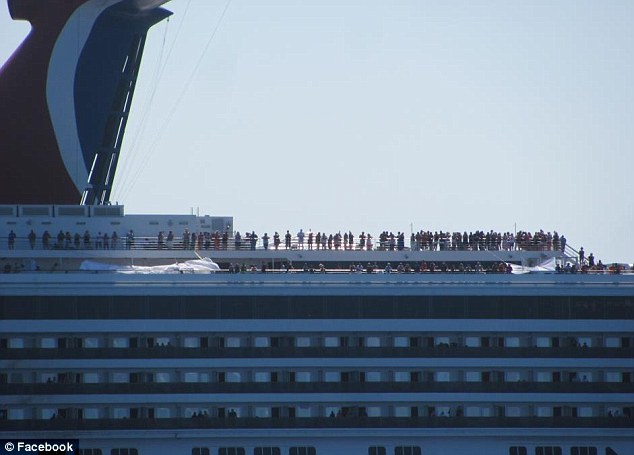 Photos: Carnival cruise is officially covered in shit and piss and puke.
Carnival cruise ship becomes a sewer hazard. Peeing in plastic bags.
The luxury cruise experience you wont be rushing for anytime soon.
Since the luxury Carnival cruise ship found itself getting stranded of the coast of the Gulf of Mexico, conditions for up to the 4200 individuals on the vessel are said to have markedly deteriorated with reports that cabin carpets are now soaked in urine, overwhelmed with unsavory smells and that passengers are now resorting to eating cold onion sandwiches.
Since the cruise liner's engines cut out this Sunday the boat has been finally reached by tug boats off the coast of Mobile, Alabama, this past Monday night which have been negotiating the liner back to shore at a speed of a few miles per hour. At best the liner might not make it back to shore before Thursday night as conditions on the boat continue to deteriorate.
One passenger Debra Rightmire texted ABC: 'Conditions are getting worse by the hour. Cabin carpets are wet with urine and water.
'Toilets are overflowing in the cabins, we are having to sleep in the hallways. Onion and cucumber sandwiches last night.'
Another Donna Gutzman wrote: 'There's no lights, no water, we can't flush. Some people were able to shower.'
Those on board were only able to make contact with land via their phones when sister ship, the Carnival Legend pulled up alongside to drop off limited supplies on life rafts.
Told a relative, Mr Brent Nutt of Angleton, Texas to CNN: 'To hear your loved one crying saying she just wants off of the ship and it all has to end.
'All of the girls in their group were calling their family members as well and they were crying. Everybody wants off of this. It's a big mess, there's no power, there's no toilets, there's no food – it's like a bunch of savages on there.
'People are fighting over food and stuff – that's a bunch of savages. It's ridiculous. Carnival has nothing at all in plan in case something like this happens.'
"There's water and feces all over the floor," Nutt relayed. "It's not the best conditions. You would think Carnival would have something in place to get these people off the ship." 
And then there's too from the UK's dailymail: Holidaymakers have been forced to sleep outside as there is no air conditioning in their sweltering cabins. Some passengers have no options other than bags or buckets for toilets with reports of 'raw sewage running down the walls'.
The news came amid claims that those on the ship have turned into 'savages' and are fighting over food, relatives said. Passengers are reportedly queuing up to four hours to get a hamburger.
Hmm, hardly the eponymous lusty experience one pays top dollar for.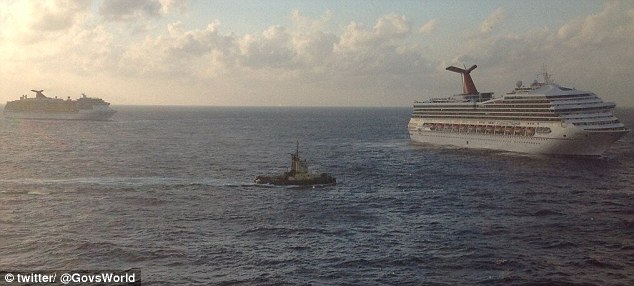 Of course one has to wonder to what degree is Carnival culpable for the mishap and to what degree they will reimburse passengers and whether they can expect litigation expect them?
Offered Carnival Cruise Lines president and CEO, Gerry Cahill, said: 'All guests on the current Carnival Triumph voyage will receive a full refund for the cruise, along with transportation expenses.  
'In addition, they will receive a future cruise credit equal to the amount paid for this voyage, as well as reimbursement of all shipboard purchases during the voyage, with the exception of gift shop and casino charges.'
The question now is will passengers seek punitive damages if it can be shown that there was intentional mishap or negligence on the boat.
Continues CEO Gerry Cahill: 'We're terribly sorry for the inconvenience, discomfort, and frustration our guests are feeling.  We know they expected a fantastic vacation, and clearly that is not what they received. Our shipboard and shoreside teams are working around the clock to care for our guests and get them home safely.'
Carnival has gone on to say that none of the passengers are in danger and that many of the toilets are being brought back online.
This is the latest commercial catastrophe to hit Carnival Cruise Lines, which reported it's 'most challenging year' in the history of the company in 2012.
And then there was this very revealing comment on the web that really made me wonder:
Folks, everything mechanical can and will break down at some point. That is a fact that we all understand. With that said Carnival has known for MONTHS that the drive system on the Triumph has been trouble prone and/ or broken. If you don't believe me just check the Cruise Critic reviews for the Carnival Triumph. I started at the February 2013 reviews and I have worked my way back to December 2012. As with any reviews some people loved their cruises but the general thread of comments have to do with delays because the ships drive system was having problems. I was suspicious that this might be going on because carnival did the same thing to us back in December 2008. I even have evidence of an internal memo Carnival wrote a couple of weeks before our cruise where Carnival stated they were changing the itinerary for our cruise basically cutting it in half. Carnival didn't inform us until we had dropped off our luggage and we were waiting in line to board. By that time it is too late to get a refund. We would not have flown from St Louis to Fort Lauderdale if Carnival had done the right thing and informed us even two days ahead of time. Carnival KNEW that some people would cancel if they had been given the opportunity in a fair way. Talk about the 800 pound gorilla being heavy handed!