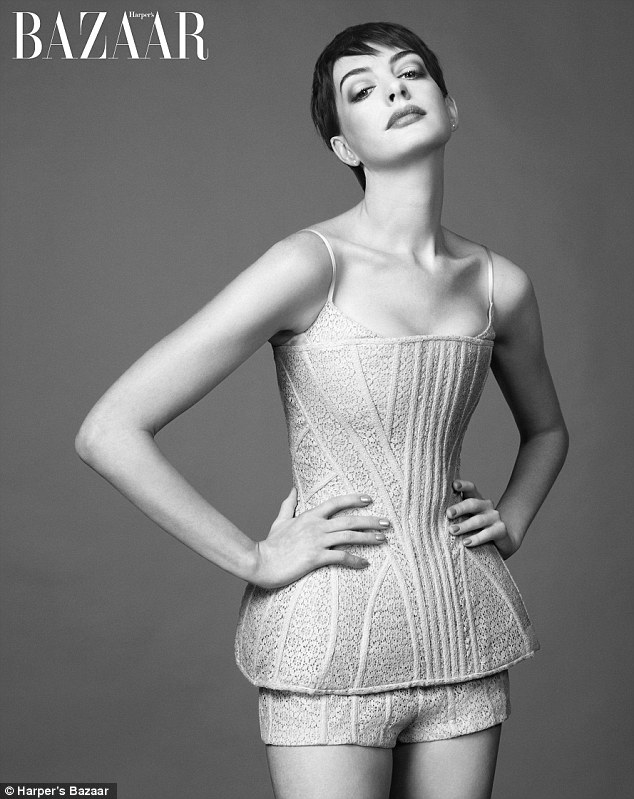 Here's an interesting way to get people to notice your gorgeous self. Just announce you have no sex appeal…
Off the back of her recent staring appearance in Les Miserables actress Anne Hathaway has been certainly been making the rounds lately. From waltzing premieres without her knickers, telling the world that she thinks her staring performance was pedestrian (I know I love the false modesty too), being the constant center of media attention cause you're too svelte and 'skinny' and of course hobnobbing with legendary designers like Valentino and his posse in back door idol streets of Gstaad, Switzerland.
Continuing her latest push to the stratosphere, Anne Hathaway now also stars in a come hither photo shoot for Harper's Bazaar where she waxes that frankly she's not sexy enough. Until now that is….
dailymail.co.uk: With her much lauded performance in Les Misérables garnering praise and box office gold aplenty, you'd think Anne Hathaway would be on top of the world. 
But the 30-year-old actress, who is being hyped for an Oscar for her performance as Fantine in the film, has revealed her inner torment at not being 'cool.'
Hathaway hates that she's seen as a 'bizarre-world good-girl character', and feels she's labelled as 'very vanilla, very sweet, very accessible and not interesting,' despite posing in a corset for a racy new shoot for Harper's Bazaar magazine.
Kids. What's the expression? Cry me a river?
Tells the actress to Harper's Bazaar:
'I'm not Rihanna, I'm not cool. When people come up to me in the street, they often want a hug not a photo, and they want that because they like my work.
For a long time it was me and her [her manager] against the world. I was seen as this bizarre-world good-girl cartoon that I in no way identified with – very vanilla, very sweet, very accessible and not interesting.
I had no grit, no sex appeal.'
Hathaway one of the most beautiful women in the world with a cache of projects behind her and constant media attention goes on to reflect now that she's on the verge of turning 30 she's vexing about the next crop of beautiful women coming behind her. I know, women can't help wondering who's going to steal their limelight. Especially beautiful ones who have the world as their oyster.
Self obsessed? Insecure or just a calculating media fame whore?