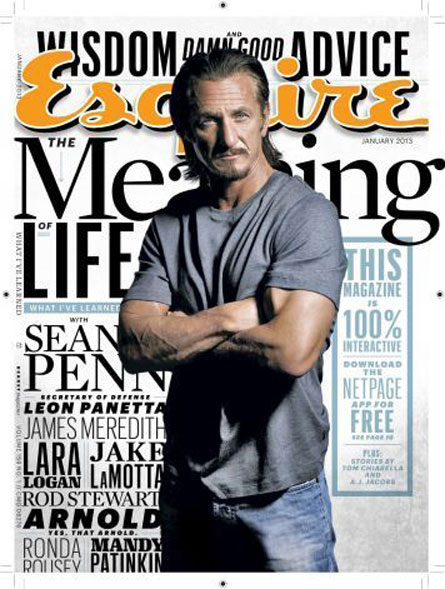 Kids, I'm leaning over the basement floor and looking for the house blow torch. Why you wonder? So I can light a candle in commiseration for our collective hero Sean Penn who reckons his sublime ass has never really ever been loved in its existence. And that's including the fact that his mug has been married twice, once to Madonna (ok, free pass there) and then to Robin Wright who he had a tumultuous one and off relationship over the years (as well as two children now in their early 20's).Of course I'm still willing to bet that Robin is also looking for a blow torch too, but unlike me, she aims to fry his ass…
And Sean's epiphany as it suddenly occurred to him whilst being sat down by Esquire:
"There is no shame in saying that we all want to be loved by someone. As I look back over my life in romance, I don't feel I've ever had that. I have been the only one that was unaware of the fraud in a few of these circumstances blindly. When you get divorced, all the truths that come out, you sit there and you go, 'What the fuck was I doing? What was I doing believing that this person was invested in this way?' Which is a fantastically strong humiliation in the best sense. It can make somebody very bitter and very hard and closed off, but I find it does the opposite to me."
Kids, this is so tragic. And here I was thinking that Sean was so adamantly loved by fans world wide. But of course that wasn't really good enough, cause his shell shocked self never really felt loved at home. Yes Madge, yes Robin, see the pain you caused our Sean? See the fraud the pair of you really are?
Of course before we reach over and start lighting Sean a phalanx of candles we all ought to remember the lonely nights how Sean would come home with Jim Beam stains all over his lapel, the lonely nights he came home with foreign twat juice on his upper lip, the lonely nights that he wanted to spend all alone as he thought to himself how to mend Haiti's woes, the lonely nights he spent locked up for beating Madonna with a baseball bat or any number of sorry souls who crossed him. Yes kids, Sean has being deprived a whole lot of love all his life.
Any one want to guess who did the most love depriving of Sean? I'll all give you a guess. S. E . A . N 
Which is just another inconvenient way of saying S.E.A.N if you really want to be loved take a loving trip to that animal called S.E.A.N…..