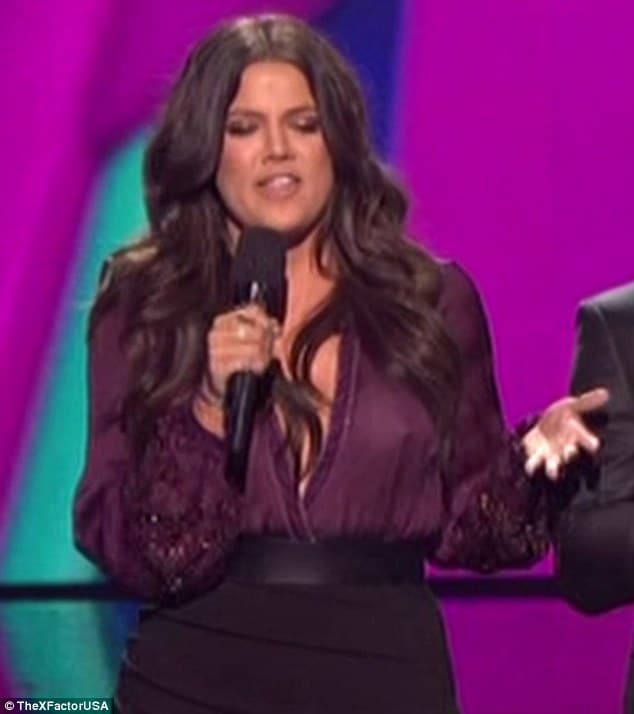 Oh my! Khloe Kardashian now dressing in leather like sister Kim.
Khloe Kardashian would like to remind you that she is indeed a very hawt birch.
It seems audiences were offered some degree of titillation (literally it seems) when Khloe Kardashian hosted her much anticipated first foray as the X factor's host last night, and true to form it had the goddess of Sheba quite wound up.
In keeping with her raunchy (was there ever any doubt?) 'Keeping up with the Kardashians' persona Khloe Kardashian chose to wear a plunging maroon long-sleeve sheer top with sequined detailing, which she opted to wear with no bra underneath, cinched with a tight fitting black pencil skirt and black belt.
Standing next to her was co host Mario Lopez who kept dizzily smiling as he thought about his imminent award from the council of good manners and style, completely unaware that his co bimbo host was embarrassing herself and perhaps to some degree stealing the spotlight from him.
Yes Mario we all know you have the best nipples in show business too. Yes Mario has issued a hate wish on Khloe.
Nipples aside Khloe's attempt at being a live host didn't go down too well with some media outlets.
bostonherald: '…..came across like the novice she is, shouting her lines despite the mic clutched in her hand and making awkward small talk with contestants and judge and executive producer Simon Cowell.'
Bad performance or not, our Khloe was hardly going to be daunted by her missteps, joking about her wardrobe malfunction, our collective hero twitted the following: 'I think I had a little nip action earlier. LOL.'
For his part Simon Cowell who has been going through his own wardrobe meltdown (yes it involves his face unfortunately) hardly reigned in his usual sour puss demeanor as he also tweeted 'I think the air conditioning is on high tonight looking at khloe,'
Which is Simon's way of saying that bixch is jealous cause Khloe stole his thunder.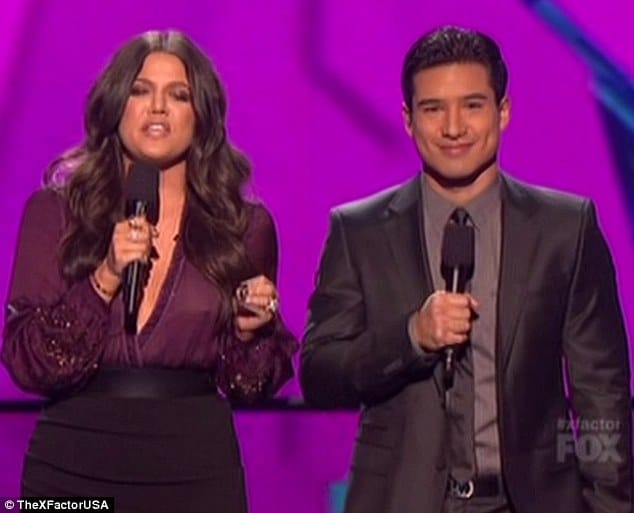 And how did the fans react?
'Just turned on the X Factor… why is Khloe Kardashian's nipple staring at me. I don't like it,' one user wrote.
'Who can concentrate on the singing when Khloe's nipple keeps distracting me?!' another one Tweeted.
Then again let's be honest who really cares about the no names on the show when the real action is watching our collective heroes up end each other and it seems now themselves?
Of course you can bet your bottom dollar that Simon Cowell is probably stoked with joy at the extra free press his well preened self is getting today, which probably wont stop him from packing on a few more pounds so we can all continue babbling about him for some time to come.
Isn't it time you put your feet up kids and watched your favorite collective media whores make right fools of themselves all the way to the bank…?