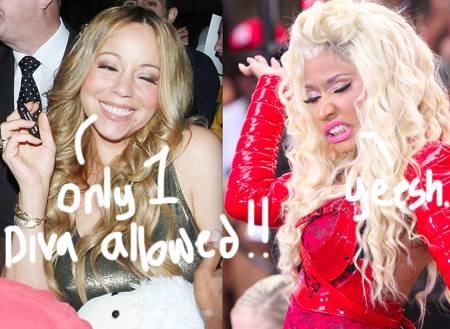 Mariah Carey beefs up security after Nicki Minaj threatens to shoot the bixch.
Seems like there might be more fun watching 'American Idol' judges duking it out this coming season than the usual searing looks that come courtesy of derailed contestants….
According to tmz them two divas Nicki Minaj and Mariah Carey went at each other like firecrackers in a Chinese new year during audition tapings. How nasty did the shit get? Let's all listen then shall we…?
After a disagreement over a contestant's performance, Minaj said:
"I told them, I'm not fucking putting up with her fucking highness over there."
Which then elicits the following from Carey:
""Oh why, WHYYYY .do I have a three year old sitting around me?"
Hmm. Can someone pass me a bucket of fat free popcorn please?
Adding joy the madness is the blank look on Keith Urban's face (judge numero tre) who's sitting in between them two riled up bixches. Of course he's probably used to Nicole Kidman's screaming at the wall so the bixch barely flinches. Which of course makes this Chekovian nightmare even more haunting. Did I just use the name Chekov to describe modern day psychological crises between two ego popping browbeaters?
Minaj also reportedly threatened to "knock out" Mariah later, although that shit isn't on tape.
And the ego thumping continues:
Nicki: Get this s**t in self control. Get in control. Get in control.
Randy: Settle down, settle down
Nicki: Don't lose your head. Don't lose your head (inaudible). Don't tell me I'm a gangster.
Nicki: (inaudible) every 5 minutes. So every time you patronize me, I'm-ma take it back, and if you've got a f**king problem, handle it.
Nicki: I told them I'm not f**kin' putting up with her f**king highness over there. Figure it the f**k out. Figure it out.
Nicki: I'm not gonna sit here every f**king minute to have you come down and harass me every minute everyday.
Writes tmz: According to our friends at MouthToEars.com, producers ended the auditions for the day so the two judges could cool down.
Isn't it time you applied to be a contestant on the "America's Next Freak' too? Loud, obnoxious and a healthy sense of entitlement preferred…big sticks also ok.