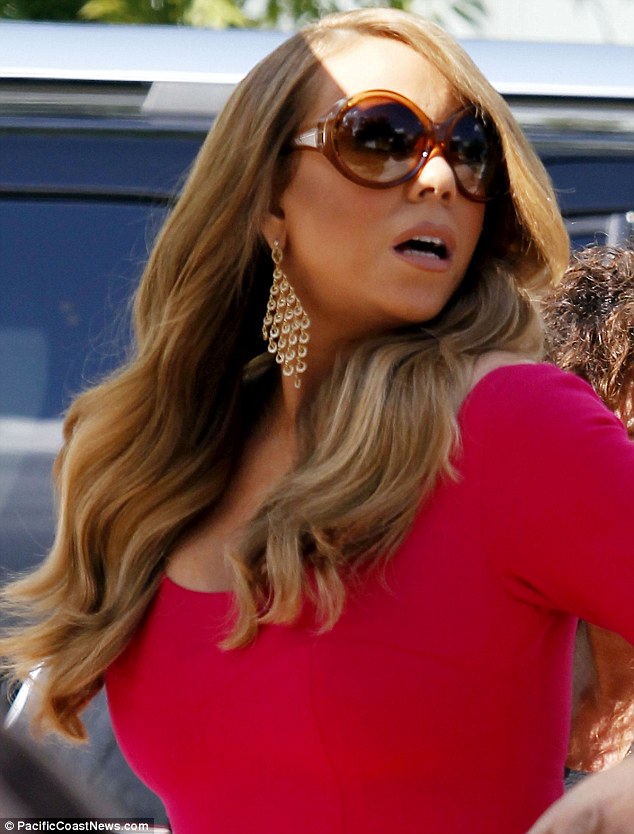 And them bixches Nicki Minaj and Mariah Carey really do hate each other…
This phony shit is just for the bears now getting way out of hand…
Looks like Mariah Carey  is taking all that crap spewing out of  Nicki Minaj 's mouth seriously as it has now been reported so concerned is the diva about Nicki's latest nonsense threats that she has now gone ahead and hired extra security to ward off Nicki's ego ricocheting and whacking her in the head…
dailymail.co.uk: The singer arrived for American Idol auditions in Baton Rouge, Louisiana on Friday with a police escort, several bodyguards and minders in tow.  
The 42-year-old, who is a new judge on the panel alongside the raper, country singer Keith Urban and Randy Jackson, lived up to her diva reputation as she strutted in for her day on set.  
She was dressed to kill in a hot pink dress and high heels, diamond shaped drop earring and oversize sunglasses.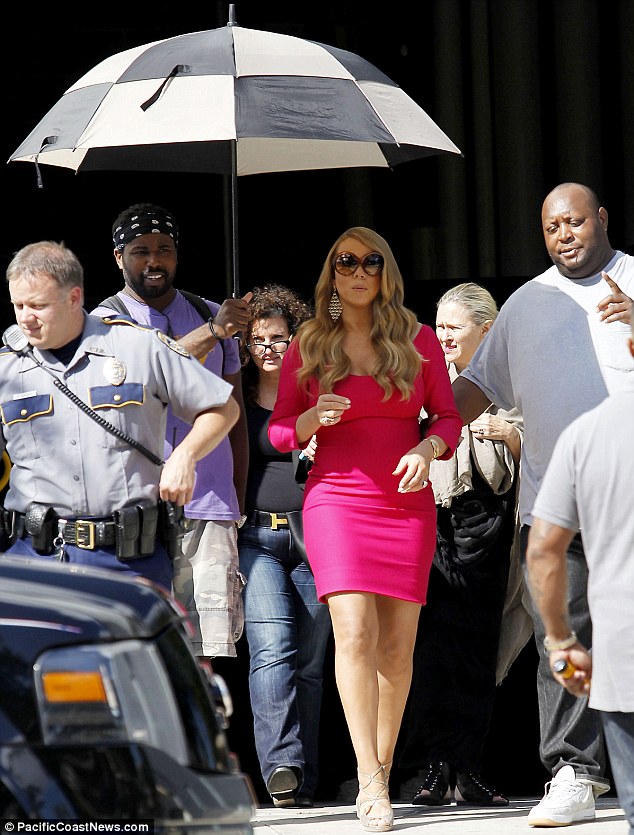 Kids tell me you're not spewing out of your gizzards too? Who does Mariah really think she is? Doesn't she realize all she need do in the event Nicki gave her half as much as a dirty look is simply take off one of them stilettos and aim at that bixches fast talking lips.
Of course if it was me or you you'd simply contact the show's producers and ask them to either fire that mad totting mouth machine or simply tell them you're not going on with the show until Nicki had a plastic mold sewn between her fat munching lips. But then again Mariah isn't me or you and the producers are as happy as a puppies piss stains to let the fracas continue:
'Mariah said at this point she doesn't feel comfortable emotionally but she will continue with the show because she loves mentoring the contestants.'
Mentoring the contestants? Hmm that's a hot baloney of snowflakes sniffed in with last night's good bottle of cognac. But then again what do I know about Mariah, maybe that bixch really loves setting all those loser contestants straight in the first place (I know I'm in a great mood today, can you tell?).
Meanwhile the twitter wars continue between the two divas.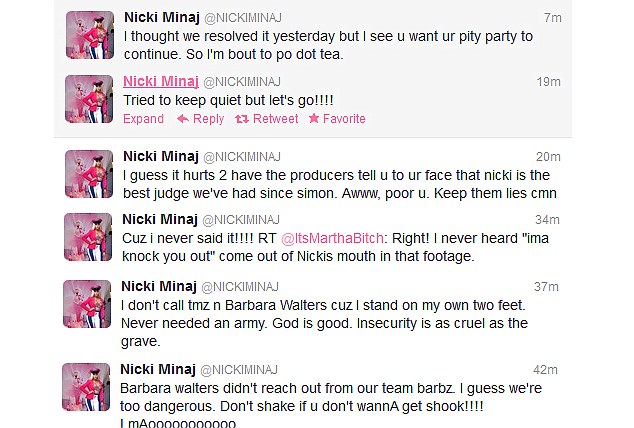 Don't you wish you could hire a couple of hawt bimbos with inflated egos to blow up your show ratings where there was once not a hope in hell you'd even get past this season?