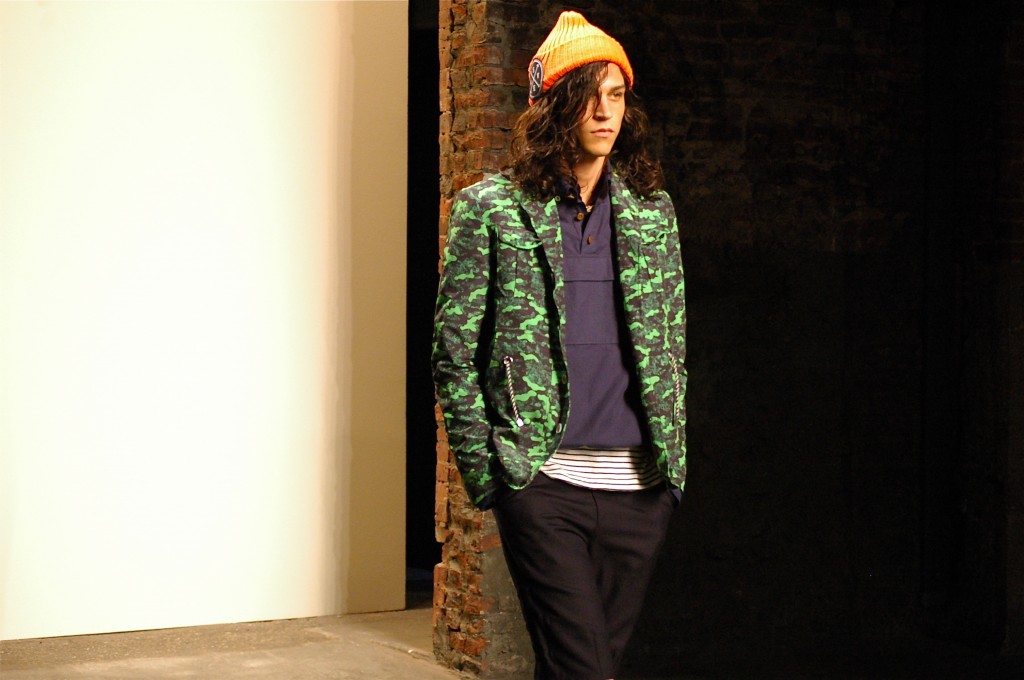 Inspired by Yu Guangyi's documentary "The Last Lumberjack," designer Bumsuk Choi draws on the toughness and strength of the last lumberjacks of the Heilongijiang Province of China.
Opening with neon green camouflage bomber jacket and shirt, beanies and layering—patched vests, shorts, and denim shirts characterize the modern spring male. Colors, far from neutral, accentuated accessories such as suspenders, beanies, cross bracelets, suede shoes, sneakers, and backpacks. Mustard, oranges, neon yellow, red, orange and even hot pink and silver accompanied tank tops, round neck shirts, sweatpants and socks.
Most striking is the richness of detail and variety of General Idea's Spring 2013 line. Hemlines, buttons, collars—suede brown pockets over navy knit sweater paired with rugged beige hiking boots undoubtedly equip the lumberjack man with a unique edge, ruggedness, and charisma alluring yet protective.
Created as a media based collective in 1969, by Canadian artists Felix Partz, Jorge Zontal and AA Bronson, General Idea goes above and beyond producing accessible menswear. In 1974 they founded Art Metropole, a non-profit devoted to collecting, distributing and publishing various forms of mixed media, such as books, audio and video.