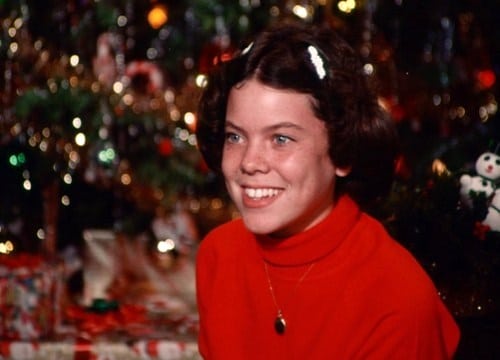 Homeless Erin Moran of Happy Days attempts to sneak back into her mother in law's trailer park home.
Erin Moran of Happy Days is now destitute and homeless.
The fall of a former child star.
It is said Hollywood takes innocent souls into the stratosphere before eventually spitting them back out, which might to some degree explain the misery and heart breaking fall from grace of some former child stars. Case in point Erin Moran who once played Joanie Cunningham in the cult show 'Happy Days,' (the irony as you will soon find out is ruefully bitter) filmed in the early 1970's (and which still shows every day now some 40 years later) who this week was photographed looking extremely haggard and looking far older than her 51 years as she smoked outside her trailer home. A trailer home that is which she and her husband, Steve Fleischmann recently found themselves evicted from…
While Erin Moran's former cast mates went on to find some degree of further success in Hollywood (Ron Howard who played Erin's on screen brother Richie Cunningham has gone on to become a top producing producer and director) it seems Erin was never able to re invent herself past the image of a rebellious curious younger sister of a angst ridden 1950's coming of age ingenue.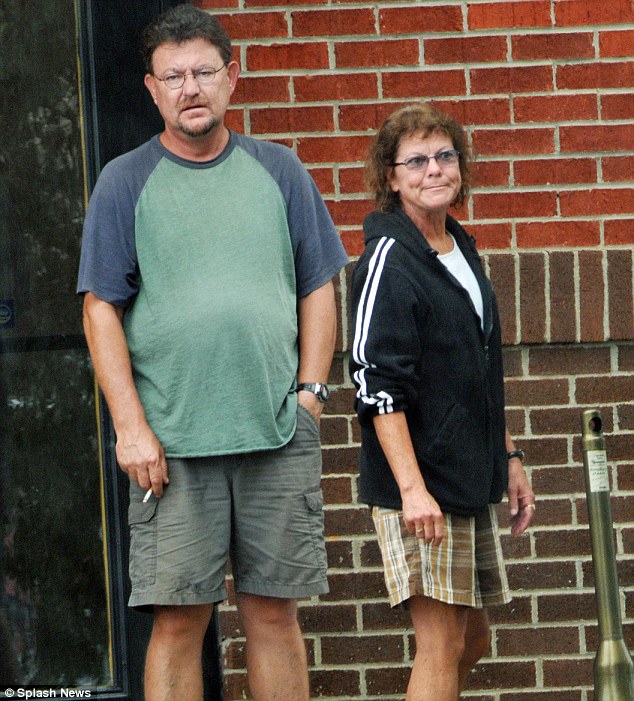 According to RadarOnline.com Erin Moran and her husband came to find themselves homeless after being kicked out of the trailer they'd been sharing with her husband's mother, who was tired of their 'hard-partying ways'.
The National Enquirer reported back in June that the couple had moved into the 'rundown trailer park' after losing their California home to foreclosure.
'Erin was going out to bars and coming home at all hours of the night, sometimes with her rowdy bar friends, and Steve's mom just couldn't take it anymore,' a source told The National Enquirer at the time.
But it wasn't always this bad, after her decade long stint on Happy Days, Erin Moran was offered a chance in 1982 to star in her own spin off show, 'Joanie Loves Chachi,' alongside Scott Baio (who himself has not fared too well in recent years) which was shortly cancelled after failing to catch on with viewers.
It is then when Erin Moran's problems began to escalate when for a number of years she was unable to secure other Hollywood roles before making a brief appearance in 2007 in an independent comedy feature. From there she was offered a spot as a contestant on VH1's reality show 'Celebrity Fit Club,' the following year before once again sinking back to obscurity as her persona failed to reignite viewers.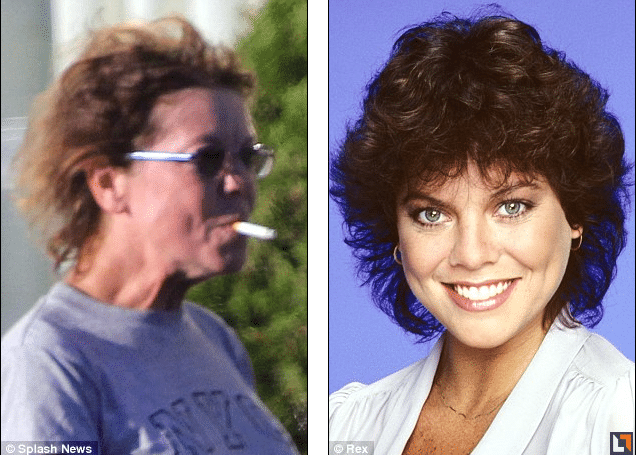 Since the 90's it is believed Erin Moran (and perhaps sooner) had found herself ensconced in a lifestyle which included excessive drinking, partying and one suspects excessive hard drug use. It is speculated her counterproductive ways alienated her from studio heads over the years.
In the photographs, taken about two weeks ago, Moran – who has not aged well – is seen walking in a grey T-shirt and plaid shorts, a cigarette hanging out of her mouth. Hardly the sight that fans of yesteryear could imagine or savor.
In the photos she is seen standing outside a motel with her husband Steve, who is also smoking, both of them looking worse for wear.
At present it is understood Erin Moran and her husband are living off a dwindling sum of money the result of a payout springing from a lawsuit filed by several Happy Days cast members in April 2011.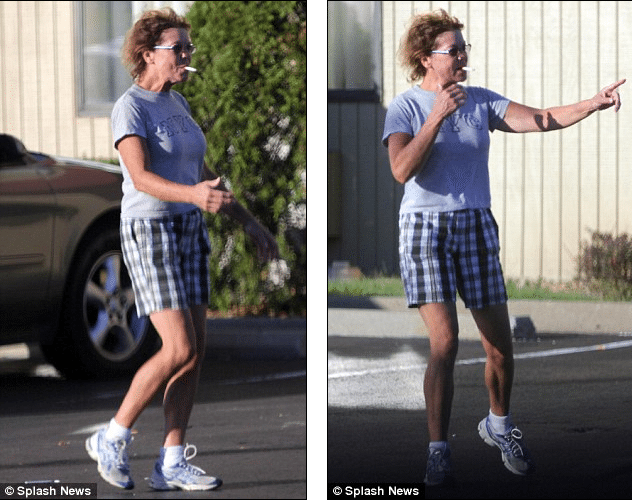 The aging actress and three of her Happy Days co-stars, Don Most, Anson Williams and Marion Ross, plus the estate of Tom Bosley, who died in 2010, filed a $10 million breach-of-contract lawsuit against CBS, which owns the show.
With a payout of only $65 000 and a penchant for the fast lifestyle (or is it one of numbing oneself away from the pain of self capitulation?) it is thought Erin Moran and her husband have by now almost relinquished the money that Ms Moran won in her payout. It is not at present understood where Ms Moran and her husband are living or if whether they have sought counseling for their self defeating behavior.
So much for childhood heroes who end up growing up to become disillusioned wasted vestiges of their former selves or is it their rising star that they could never live up to in real life…? So much for 'Happy Days'….
(see video below)