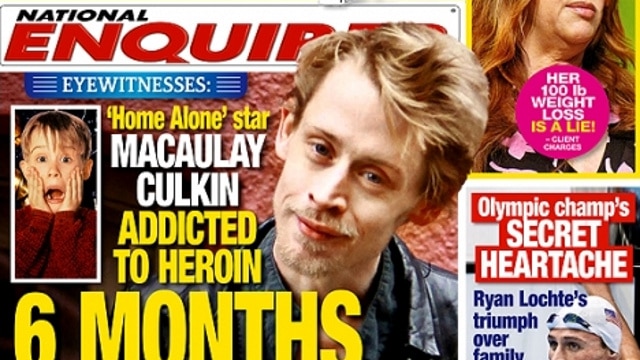 The National Enquirer insists Macaulay Culkin is a heroin addict. Take the blood test now!
Macaulay Culkin said to be hopelessly addicted to heroin. Has turned his apartment into a drug den.
As media speculation mounts as to the severity of actor Macaulay Culkin's purported drug use, representatives of the actor have come out this afternoon issuing a fiercely worded denial of any drug use what so ever.
The denial comes after an article first appeared in the National Enquirer claiming that sources have witnessed the actor first hand descend into a dangerous spiral of copious heroin use and pain killer oxycodone.
According to the Enquirer, Culkin spends up to $6,000 a month on other dangerous painkillers, and has turned his Manhattan apartment into his own private drug den where he gets high during hours alone or with his close circle of whacked-out pals.
The once golden boy's drug use intensified about 18 months ago, say the insiders, when he fell into a downward spiral over his dead-end career and a shattered romance with Hollywood hottie Mila Kunis, who's now dating Ashton Kutcher.
Offers Culkin's publicist Michelle Bega: 'The report in the National Enquirer that Macaulay Culkin is addicted to heroin and assorted hallucinogenics is not only categorically without merit, but it is also impossibly and ridiculously fictitious.'
According to the dailymail, Bega goes on to assert that the story is 'destructive and insulting,' to the actor.
Says the undisclosed source to the enquirer, an apparent close friend of the actor:
'Mac suffered a near overdose, and needed help,' the insider said.
'Fortunately he didn't need to call 911 and the near-OD was kept quiet among his pals. But Mac got very sick.'
Recent photos of the actor looking emaciated and gaunt made headlines last February.
Reports the dailymail: At the time his representatives strenuously denied the actor was addicted to prescription drugs or heroin amid reports the 5-foot-7 star's weight had dropped to 104lbs.
Adding to the conjecture of the actor's purported drug use is the fact that in 2003 the actor appeared as the lead in 'Party Monster' a film dedicated to the exploits of a conflicted party goer who finds himself becoming increasingly dependent on drugs, dealing in them and then killing a drug dealer who he is indebted to. Of course this only throws up the question if a situation of life imitating art has now arisen?
Of note is the following:
Culkin's half sister Jennifer Adamson died of a drug overdose in 2000.
In another tragic twist, the National Enquirer reports that a female friend of Culkin's died earlier this year of a heroin overdose.
Ultimately one has to wonder which camp is telling the truth, or whether it's a situation that Culkin was doing heroin and in recent months has sought to clean up his act and has wished at present to bring public exposure to some psychological trauma that more than likely could have precipitated such drug use, as is often the case amongst those afflicted with addiction.