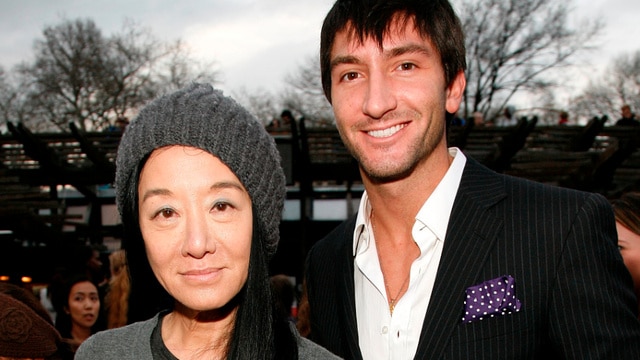 It seems more is beginning to meet the eye pursuant to last week's news that fashion madame Vera Wang was set to divorce her long time husband of 23 years Arthur Becker. At the time it was speculated that the two were parting ways because they just couldn't see eye to eye but now it appears there may be more convincing reasons why the pair are going their separate ways:
nydailynews: Sources close to the famous wedding dress designer, who announced on July 11 via the president of her multimillion-dollar company that she was separating from husband Arthur Becker , say she's been playing house with someone young enough to be her son.
According to an insider, 27-year-old Olympic champion figure skater Evan Lysacek moved into Wang's Beverly Hills mansion last month . The source says the 63-year-old fashionista offered Lysacek the opportunity "to stay there for a while."
Offered the young hunk to stay there? How generous of Vera Wang who waxes a 36 year age gap over her newest house guest. One can only wonder what Vera Wang sees in her new house guest?
The status of their current relationship, however, is unclear even to those closest to them. There is "something going on," says the source, while a second insider says Wang is "just enamoured with him and enjoys his company," and doesn't think a sexual relationship is in the cards. A spokeswoman for Wang had no comment.
Of course tempering the no comment stance is the fact that the young stud in recent weeks has been seen cavorting in a white Bentley with a large flashy Rolex. Certainly the type of house warming gift one 'customarily' bestows on preferred house guests.
According to the nydailynews, representatives for Lysacek have not responded for a comment. Never mind on another aside Vera Wang is said to have recently given herself a new facelift. Can anyone guess why?