'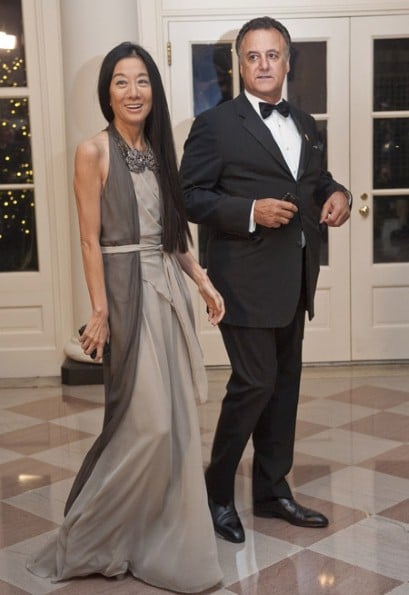 Vera Wang and Evan Lysacke rumored to now be living together. Sporting flashy Rolex…
They used to fight all the time in public, even at dinner…'
Sensing some degree of reticence and irony, fashion's it couple, Vera Wang and Arthur Becker have decided to publicly announce that they no longer be an item.
Long known to be the leaders of wedding gown dresses  (before they jettisoned to eveningwear, fragrance, jewellery, eyewear, shoe and homeware collections) it might strike many as palpably funny that the couple who are in the business of selling dreams to couples looking to tie the knot are themselves untying the knot.
What may have led to the couple's undoing in all likelihood stems from the success engendered by the Vera Wang label that both her and Mr Becker built together and to this very day are still quite committed to. Mr Becker it is understood to have helped finance the label shortly after the couple first married in 1989, with him leaving a career as CEO of a tech outlet to be part of Ms Wang's vision.
So popular had the label become,many had assumed as Vera Wang as it's high profile frontwoman that she was by now calling all the shots when in fact both her and her husband were actively involved within different aspects of the day to day running of the label. It is thought that the resulting tension may have led to some degree of resentment on behalf of Mr Becker as well as a sense of emasculation.
So heightened would the strain in their relations become that the couple often fought in full view of a bemused public, even going so far as to having notorious shouting matches whilst having dinner at chic boites.
One source mentioned Mr Becker once ruefully bemoaning his presumed status as 'Mr Vera Wang.'
Wishing to keep a pristine image, Vera Wang president, Mario Grauso issued a comment (what else was he going to do?) to the effect that the couple were still best friends and that both parties would continue running the company.
Never mind, as long as we still have our illusions a Vera Wang dress will still melt hearts…