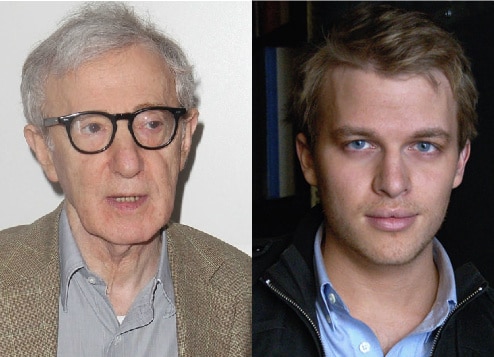 Some families don't celebrate father's day after all…
While most of us were out with our dad's lighting the barbecue embers this past Father's day, one son who was not out with his dad was Ronan Farrow. Ronan in case you are wondering was out sharpening blunt objects to jab into his father Woody Allen, and judging from how things have played out, he may have just well succeeded.
Tweeted 24 year old Ronan Farrow, son to Woody Allen and his once long term partner Mia Farrow before Woody took off with their new adopted daughter now 41 year old Soon-Yi (or in Ronan's case his sister, hence the brother in law snark, kiddo just wanted to remind us what went down 20 years ago back):
'Happy father's day- or as they call it in my family, happy brother-in-law's day.'
The tweet was subsequently re tweeted by some 1300 people on Sunday, including, uhm, ahem  Mia Farrow (did she put him up to this?). For her part Mia Farrow, added the word, 'boom,' to the original tweet. Boom indeed. (her custom made tweet did well too, it got replayed 2300 times).
Of course if this was a Woody Allen film, we'd all be smirking, relishing in the irony but of course this is not a Woody Allen film but Woody Allen's life, which has to make you wonder.
It's understood that Woody Allen and Ronnan Farrow have been estranged for many years, and it seems a few more at that too going forward.