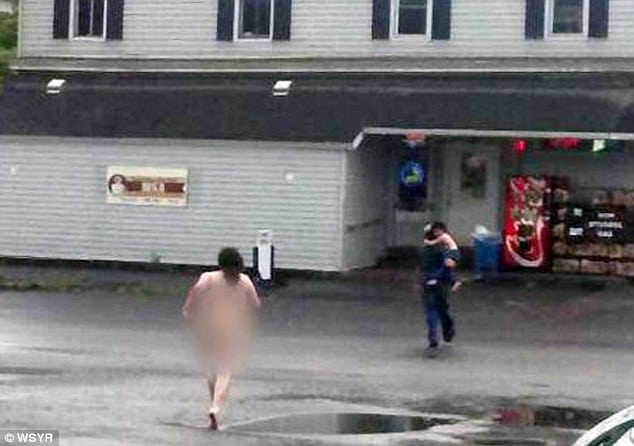 Bath salts are this summer making a revenge comeback…
A disturbing image of 35 year old mother, Pamela McCarthy has been released pursuant to her choking and punching her three year old son before then running around in the street naked. In an effort to then subdue her authorities used a taser gun which then led to the woman experiencing a cardiac arrest before later dying.
The incident occurred after neighbors called the police at 7.45pm to report the mother was harming her son and attacking neighbors and even strangling one of her dogs.
9wsyr: McCarthy's boyfriend, Jason Williams, says he saw her totally naked and didn't know what she was doing.
Potentially high on bath salts, McCarthy may not have known what she was doing either.
Police say McCarthy began punching and choking her own son, before going after two teens playing basketball nearby.
As soon as Williams saw what was going on he rushed over to grab their son. A chase ensued between McCarthy and Williams, but McCarthy soon gave up.
"Then she went back around, she was still chasing people, just running back and forth around the street and she got a hold of one of her dogs and she was rolling around on the ground with her legs wrapped around it; she was strangling the dog," said a neighbor.
Does this scene describe a diabolical rendering of a woman who has literally gone mad? Was she even aware of what she was doing, what was happening to her or was this just a woman beyond any sense of coherency? Or was that the intent in the fist place when she decided to ingest bathing salts?
And that's when the police were called in:
A trooper attempted to cuff her, but she resisted. Officers tried using pepper spray to subdue her, but it had no effect, so they tased her. That's when McCarthy went into cardiac arrest and later died at the hospital.
The child was later taken to hospital whereby they were later released. It is understood that the woman has a history of drug abuse.  What is up for grabs now is how the child will come to terms with the incident and the eventual knowledge that she tried to kill him but paradoxically ended up having herself killed.
An investigation is now pending.
New drug 'cloud nine' said to behind zombie attacks.
Welcome to shooting up bathing salts. 'Woman who shot up bathing salts loses her arm, shoulder and breasts.'
Bath Salts Are America's Newest Drug of Choice.