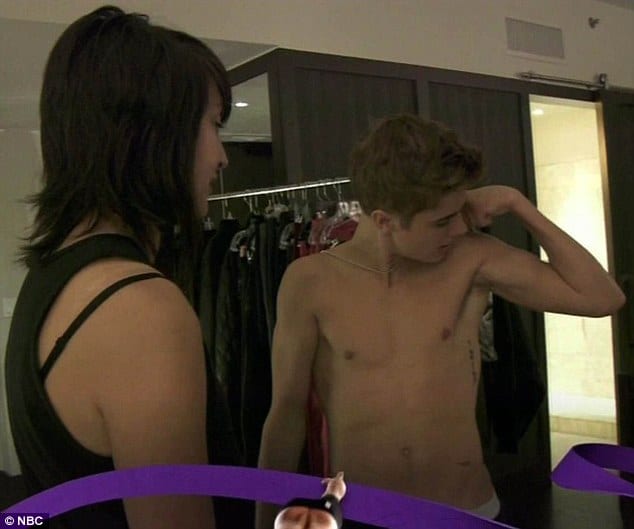 Kids it's time to gather around the pantry and marvel at the good shit making its way a la carte high jinks. NBC in lieu of their upcoming documentary on Justin Bieber, 'All around the world,' (yes milk that bixch for what he's worth) have taken the time to give us a sneak peak of what's in store for us. Of course what's in store might make you as dizzy as it made me…
dailymail.co.uk: So some might call Justin's decision to bare his chest in several topless shots during part 2 of his recent NBC documentary All Around The World somewhat irresponsible.
The 18-year-old flashed his torso and showed off his 'formidable' biceps during a behind the scenes clip from his Believe tour.
Irresponsible? Is that nigga chewing the fat off his brain cells? It's the best thing since sliced bread and my eyeballs just want to rape Justin Chi Chi Hawt bixch's hairless nipples.
A female aide was on hand to assist the star, and thankfully appeared to withstand the effects of his exposed chest with admirable composure.
Of course we all know if it was my ass standing next to Justin as he made the surprise move of taking the good shit off I would have invented a quick desperate excuse to lay my hands on Chi Chi's bare chest.
'Oh Justin, look, them nipples need moisturizer. Let me unzip some good shit out of my bag and tend to that chaffing….'
NBC for their part also revealed other snaps, but that involved Chi Chi being fully clothed and cuddling children, something that hardly does justice to the beautiful specimen that Justin really is.
Oh well, isn't it time you sexualized a young boy too? NBC did. Why not you?