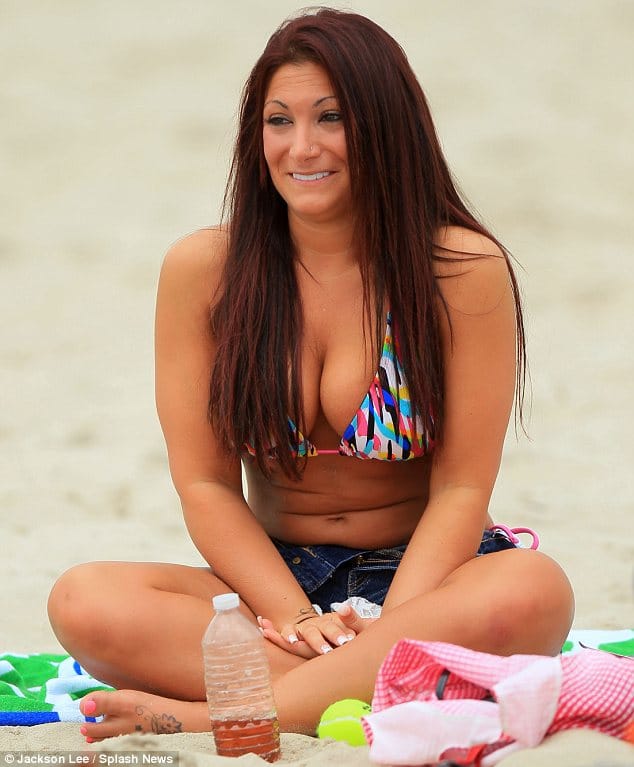 The trick a treat of terrible behavior of Jersey Shore's cast members has conspicuously gone into overdrive this weekend, of course on the cusp of the release of their 6th season….
If it isn't bad enough that Snooki has been busted with graphic images of her stripping in a hotel room, her running around with next to nothing on in her final trimester of pregnancy, her co star Jwoww now in crutches after fellow cast members had a bar brawl this weekend, now comes news that fellow cast member Deena Cortese (yes why be left out?) has been arrested this Sunday afternoon at Jersey's Seaside Heights for disorderly conduct.
nbcnewyork: Police Chief Tommy Boyd tells NBC 4 New York that one of his officers arrested Deena Cortese after seeing her "a little intoxicated."
The officer, Patrolman Chris Linnel, allegedly spotted her in the middle of a street, slapping cars that were driving by.
"Nothing major, but we can't put up with it," Boyd said.
Slapping cars? Or did she think she was slapping something/someone else? Then again there are days cars offend me too and I just want to stare them down, but slap them, that takes real cunning.
Or could it all just be a carefully manipulated stunt to get viewers running to their tv sets as the cast of Jersey Shore began shooting its newest season this week?
Personally I would have been more impressed if Deena had tried peeing on the bonnet of a few cars…0r maybe herself?
Jersey Shore's Jwoww ends up in a bar brawl that leaves her in crutches.
Graphic: Snooki denies leaking leaked nude photos of self.
Snooki now cavorting in short mini dresses whilst pregnant. What nude scandal?