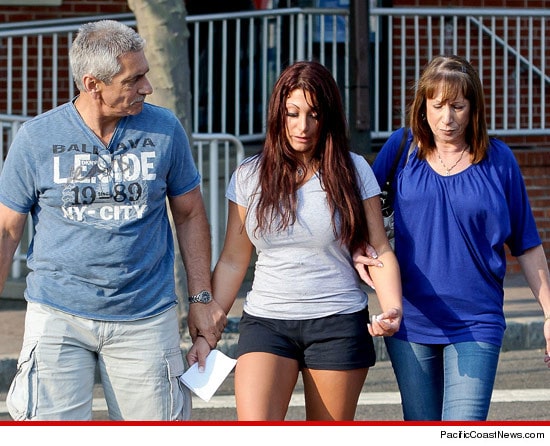 Nothing but the rent going on here.
Woe to the Cortese family this morning as they made the thankless task of picking up their trash to die for daughter Deena after a disastrous outing yesterday in Seaside Heights, New Jersey.
The reality actress, on the heels of the Jersey's Shore's 6th season found herself unable to contain herself as she managed to down a hefty portion of the good shit that left her wobbling down the highway smacking automobiles. Which is really Deena's way of saying 'yo, do you mind loaning me a buck so I can buy another pale of the good shit.'
But not to fear. After Deena was taken away(yes kids, even the authorities have a hard time turning a blind eye to such wack behavior) the reality starlet was paid a few visits from Jersey Shore pals, including Ronnie, Jwoww, Sammi and of course her highness, Snooki.
But it took Deena's parents to have to drop by, explain profusely for their daughter's behavior ('yes your honor, she likes to slap the wall at home too!) before dragging their sorry daughter's ass out of the slammer. You can see by the picture above, Deena's parents were hardly thrilled.
Never mind Mr and Mrs Cortese, one day not too deep into the future your little babooshka will walk into your lives with a bucket of the good shit and the keys to your new house as soon as she lands a few major media whore campaigns.
Jersey Shore's Deena Cortese arrested for disorderly conduct.
Jersey Shore's Jwoww ends up in a bar brawl that leaves her in crutches.
Graphic: Snooki denies leaking leaked nude photos of self.
Snooki now cavorting in short mini dresses whilst pregnant. What nude scandal?