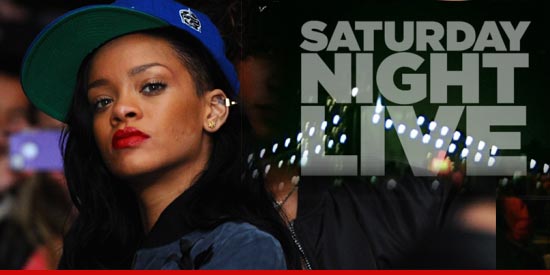 Rihanna will always know better than you…
There is nothing more Scally than missing your own SNL live dress rehearsal (something RARELY if EVER done, since the rehearsal is right before the show and filmed in front of an audience) and managing to piss off producer Lorne Michaels. We're talking about none other than badass songstress Rihanna, a  woman who frankly doesn't give a damn how important a rehearsal is, and when feeling ill has no problem skipping it for an in-dressing room doctor administered dose of penicillin.
TMZ reported the following regarding the May 5th show:
"According to our sources, RiRi called in sick for the dress rehearsal, which is done live in front of a studio audience right before the actual show. We're told Michaels takes dress rehearsals very seriously and was quite upset when Rihanna bailed at the last minute."
And when she finally did show up…
"…later looking just fine, we're told the staff was shocked … and felt she didn't appear sick enough to have missed the dress rehearsal … though no one from the show called her on it."
This of course freaked everyone out. How chic…
"According to our sources, once the live show got going, Rihanna was seen eating an apple and walking around in between songs … which bothered several staffers because she did not seem ill at all."
Shouldn't SNL know by now how huge the phenomenon known as Rihanna has come to be? If the girl doesn't feel good, the girl doesn't feel good. She had her choreographer stand in and perform to her songs for the rehearsal anyway, so what's the difference?
If those audience members wanted to see Riri live so badly, they should have just stopped being cheap and bought concert tickets to her actual show.
My advice to Lorne? Lorne, you should know by now the power of celebrity pop-stars. If Riri's absence bothered you so much then I'd advise you invest in musical holograms for future purposes. I hear everyone is doing it.
I'm guessing holograms don't get sick, probably don't require a dressing room filled with fancy water/candy/groupies, and they attend rehearsals promptly without attitude.
So get on that, and while you're at it, cut some slack for Riri. She's a gift to this planet, and her health is more important than your silly show.
Yes Rihanna will do anything to get in the press including wearing this dress…
Rihanna posts topless pic while dad backs off on calling her fat.
Rihanna targets Karrueche Tran with racial slur
Rihanna blows $24 000 just to fly in her hairstylist.
Rihanna bullies fan on Twitter, calls fan "ugly"
Chris Brown and Rihanna – skillful manipulators or just plain stupid?