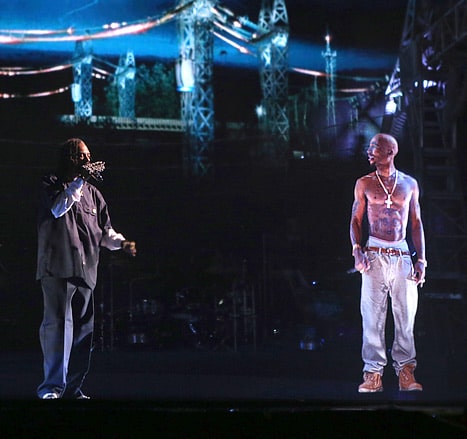 Despite rumors that west coast rapper Tupac Shakur was murdered 15 years ago he seems to have resurfaced at the Coachella music festival this past weekend for a groundbreaking performance…. in 2D image form that is.
The legendary rapper took the stage to perform "Come With me" and "Gangsta Party" with Snoop Dog to a celeb-studded music festival in indio, California. Within minutes of the virtual image appearing on stage celeb fans were quick to tweet about the performance…
"Went supa light weight lastnight!!!!! Saved all my love for Snoop+Dre (n Co)" wrote Rihanna, who was in awe of Snoop Dogg's performance with a hologram of Tupac. "#TupacBACK #unbelievable #IWASTHERE #STORY4myGrandKidz."
"@SnoopDogg' s performance was beyond epic last night! @DrDre @RealWizKhalifa @Eminem @50Cent! The Tupac Hologram was unreal! What a show! ♡" wrote Paris Hilton.
While produced by AV concepts, the late rapper's hologram was created by Digital Domain Media Group, the same visual-effect house responsible for animations in "the curious case of benjamin button" and other major hollywood films.
Via MTVnews.com:
"It was Dre's vision, Nick Smith, the president of AV Concepts, "It was his idea from the very beginning and we worked with him and his camp to utilize the technology to make it come to life." Speaking of the potential for this technology, Smith explained that "you can take people that haven't done concerts before or perform music they haven't sung and digitally re-create it."
Unconfirmed rumors are already surfacing that the 2D image is set to go on tour at some point this year and who knows if there will be other 2D/3D products available down the road. So what exactly does this mean for the future of the entertainment industry. In an industry thats already known to manufacture stars and mold artists into profitable products, can we be on the verge of a technologic revolution equipt with a new breed of celebrity? One can only wonder if celebs will now be able to perform in multiple venues at once only increasing their marketability among other high-tech additions. Or how about a new breed of celebrity all together? A virtual Bread? Are we nearing the end of new artists… Live ones at least? Only time can tell..