Hillary Clinton proving that as Secretary of State she still knows how to pull her hair down and party like the best of them.
It's not often one is shown images of public figures in party mode, often if we are shown images of them, it's them looking forlorn and caught amidst some contentious issue. Of course if you are a celebrity or an entertainer you're normally shown in nothing but in a skimpy outfit, drink in hand and a story or two about sexual feat. That now all changes with the way some of our politicians and business people are now being represented to us in the press, who in their own way have become our new defacto entertainers and celebs (you can thank the media for this). That said, it's time to have a look at Hillary Clinton who in her own down time is caught partying the night away and how much we all find it beguiling…
dailymail.co.uk: After attending debates at a major summit in Cartagena, Colombia, where more than 30 world leaders gathered together, Secretary of State Hillary Clinton partied the night away at a nightclub.
The 64-year-old, who is in South America for the Sixth Summit of the Americas, made the most of the country's nightlife at Café Havana on Saturday evening.
In photos taken at the salsa hotspot, Mrs Clinton can be seen dancing with her hands in the air and swigging back a bottle of beer while surrounded by friends.
Hands in the air, drink in hand and dancing? Shouldn't this really be Paris Hilton or Kim Kardashian? But then again who's to say that even politicians can't go out and have a blast…?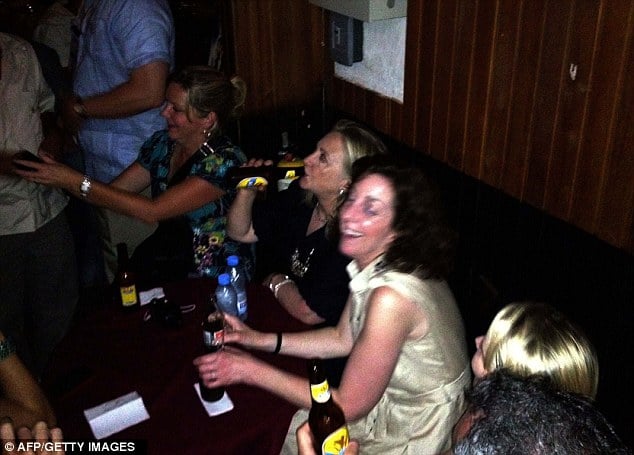 The former United States Senator for New York had ditched her trademark scrunchie and let her hair loose, opting for a more laid back look.
Mrs Clinton, who is normally a fan of two-piece suits, was pictured in a casual black dress, which she teamed with chunky jewellery.
Could Ms Clinton be softening her image for the cameras? Was this after all just a clever manufactured pr stunt by team Clinton to get us to see the more down to earth fun loving Ms Clinton? Or is this just an instance of the camera having innocently caught some of our more known recognizable politicians doing what they normally get to do anyway?