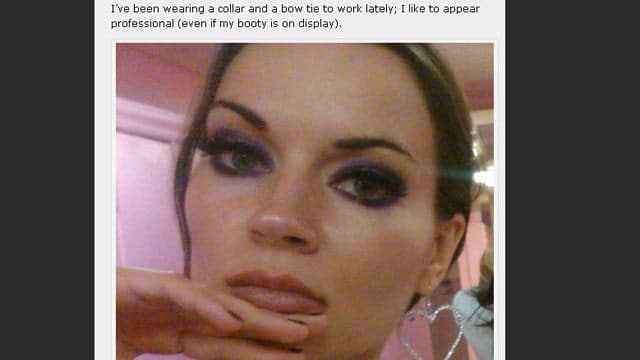 Oh dear kids, it's time for part 2 of how I managed to become a stripper, a professor and a society reporter behind everyone's back and nearly get away with it.
Smiling and looking pretty impressed with herself our existential hero Strip or Dare Sarah Tressler disclosed to ABC that she never envisaged her bosses at the Houston Chronicle ever finding out about her being a stripper. Something that them sort find somewhat distatesful in the southern parts of the country where men are men and women are polite arm candy or slutty creatures.
As fate would have it, the Houston Press were doing some snooping (shock horror- do journalist do such things??!!) when they came across some interesting connect the dots and faster than you could say 'You're about to be toast,' the paper released the story of her being a two bit stripper  to the horror of her employers over at Houston Chronicle who had no idea that their little cupboard vixen was living such a double life.
Interestingly this leads to the next question, why was the Houston Press checking in on our hero in the first place? Had someone tipped them off, was it her walking in her bright red pumps along Rodeo Drive that gave it away or had Sarah even applied for a writing gig there too?
During the exclusive interview with ABC (yes- don't you love that word- exclusive, which reminds me- kids do you think Sarah gave exclusive lap dances?) the interviewer asks our Sarah whether she had ever disclosed to the Houston Chronicle that she was a stripper to which Queen Sheba cavalierly responds that it never occurred to her to do so.
When asked whether she was caught off guard at being outed this week, our Queen Sheba retorted with a dew of tears forming in the outer layer of her corneas that it definitely took her by surprise. Of course what takes this journo by surprise is how another journo prancing around town like a smug stripper sometimes making $2000 a night (she had once tried to get a job as a book clerk for $8.50 an hour but somehow no one wanted to hire her and thus she was forced to resort to earning $2000 or so days to being a stripper) had no idea that her sorry ass would eventually be outed. Never mind she's supposed to be an adjunct professor of journalism.
In the end though it hardly seems that our collective hawt bixch is perturbed by the chain of events, she after all still has two out of three jobs left: professor and stripper. But who knows what the school where she teaches might say now?
Of course as a caveat, I couldn't figure out why ABC declined to ask the bixch about what exactly it was about Jeremy Piven going down on her that was such an awful experience?
Don't you wish you could live a two bit life in disguise amongst society ladies by day and terror journalist by night. I know I certainly am….
Sarah Tressler reckons Jeremy Piven gives lousy head. Oh well…
Sarah Tressler is your preferred society reporter by day and stripper by night!